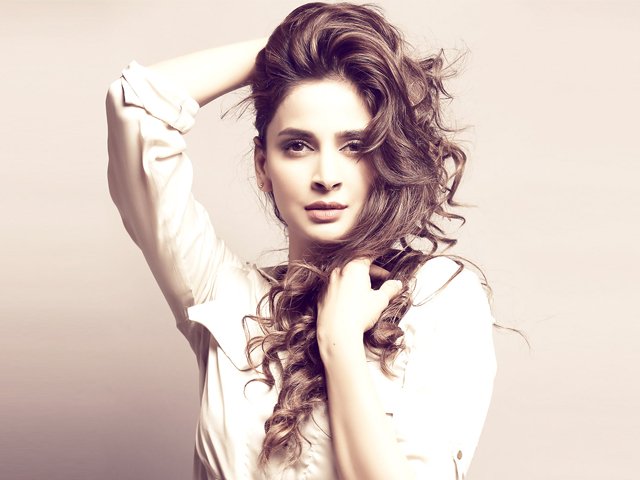 ---
KARACHI: The Pakistani film and TV industry has witnessed many actors who have achieved the rightful status of being a star. One such personality, Saba Qamar, has been in the industry for over a decade and managed to deliver hit after hit with her tremendous performances. From playing Suraiya in the epic partition saga Dastaan, to the chirpy and controversial Kanwal Baloch in Baaghi and then making a super hit Bollywood debut with Hindi Medium, Qamar has proved that she is here to stay.

Happy Birthday Saba Qamar: 5 times the actor proved her mettle onscreen

The Express Tribune caught up with the actor about her journey post-Baaghi and her experiences in the industry.

https://www.instagram.com/p/BbPQvNHH0gs/?taken-by=sabaqamarzaman

The Express Tribune (ET): What does acting mean to you?

Saba Qamar (SQ): For me, acting is being able to express the feelings, emotions and expressions of different people and characters.

ET: Who, in your opinion, is the true star (male or female) in Pakistan right now?

SQ: I have a very different meaning of what a star is. I think a star is a person who benefits, helps and supports other people around them – much like the late Edhi Saab. People like him are the true stars of our nation.

ET: So far, who has been your favourite co-star? Who do you aspire to work with in the future?

SQ: I have had an extremely pleasant experience working with Aamina Sheikh. She's one of the most professional and hardworking actors we have in the industry. I have also seen Bilal Abbas Khan's work recently and was impressed by his performance in the TV drama, O Rungreza. I would really like to work with him.

https://www.instagram.com/p/BXGzyJWA3J6/?taken-by=sabaqamarzaman

ET: Now that people have watched 'Baaghi', do you feel their outlook on honour killings has changed?

SQ: To some extent, it has changed. And I say that because the same people who were abusing her were the ones crying after watching the last episode. They were the ones who then had a soft corner for her. I think they finally understood how she was wronged on so many levels.  Also, I believe that, as artists, we are fortunate enough to have a platform which we can use to change people's perceptions and views. We can portray stories that are meaningful and thought provoking for the greater good of the country and the world.

ET: How do you feel now that it's over? Do you think you managed to get your message across with what you initially aimed for?

SQ: Yes, I'm extremely glad that I managed to deliver the message. As I mentioned earlier, it is very important to discuss stories like this for the betterment of our society and its people.

https://www.instagram.com/p/BWkO8vCAgWn/?taken-by=sabaqamarzaman

ET: If Qandeel Baloch was alive today, what is that one thing you'd want to say to her?

SQ: Education is an important part towards a person's development so I would have asked her to get educated. I think she was a pure soul and if she had received proper education, she probably would have been on a different path. Unfortunately, in our society, many women with ambition choose the wrong path because of their lack of understanding of the world, which is a result of lack of education. For a society to become established, the foundation must be strong and that can only be achieved through education.

ET: You were also honoured at Lux Style Awards (LSA) this time, for 'Baaghi'. How does that make you feel? You generally don't attend award ceremonies, right?

SQ: Receiving an award for a show that people liked and understood was refreshing and a very proud moment for me. I don't have anything against award ceremonies; in fact, I think it is important for people who deserve the awards to have their hard work recognised through such platforms.

https://www.instagram.com/p/BfdXTLUH4o_/?taken-by=sabaqamarzaman

ET: Your debut in Bollywood has received a lot of love and praise. How was it working in India and with Irrfan Khan?

SQ: It was a wonderful experience working in Bollywood and with their finest actor, Irrfan. He's an extremely humble person and it was like a dream come true for me. I'm extremely grateful to all my fans from all over the world for giving Hindi Medium such a superb response. Overall, it has been an overwhelming experience.

ET: Are you in touch with him as he is currently not well?

SQ: I'm not in touch with him but I have spoken to my production team regarding his current situation. All my prayers are with him and his family in this difficult time and I pray that he has a speedy recovery.

https://www.instagram.com/p/Bdnot5VHXb7/?taken-by=sabaqamarzaman

ET: 'Hindi Medium' also broke records in China. How do you feel about that?

SQ: China has a huge market. They are very selective with the choice of films they screen as not all films run successfully in their market. But now, I think I can say that I have a few fans in China too and that makes me really happy. On a serious note, I feel blessed that people liked Hindi Medium and to have received that kind of a response, from all over the world, is just amazing.

ET: What kind of roles do you prefer? Do you like serious roles such as the one you played in 'Digest Writer' or comic ones like 'Lahore Se Aagay'? Do you have any other films in the pipeline?

SQ: I like characters and scripts that are challenging, different and have substance. That's exactly the reason why I have not done anything after Baaghi because I have not come across scripts that have excited me so far. However, now, I do have some projects lined up that I am currently working on. But I'm still working on refining myself with them because, at this point, I believe in quality over quantity. I would not like to a huge number of films or dramas if I cannot deliver craft with excellence.

https://www.instagram.com/p/BU7YkMWhZ3U/?taken-by=sabaqamarzaman

ET: You've not only managed to wow crowds with your acting skills but your stance on many social issues is also appreciated by a lot of people. What is that one specific cause that you stand for? What do you want to change in society today?

SQ: I believe education is an integral part of a progressive and successful nation. I want to our society to comprise of people who are open-minded, evolved and non-judgmental. That's how I would like to see Pakistan someday and I hope to become a part of bringing about that change.

ET: Being an artist, while social media is at its peak, one is sure to receive hate comments. How do you deal with such remarks?

SQ: An educated and an open-minded person will never be disrespectful to another being, which is also why I stress so much on the matter. As far as the hate comments are concerned, I don't take them to heart. I just think that these people are ill-mannered, small-minded and ignorant. They have no respect for themselves or others around them and that's very sad.

ET: What do you think is the future of Pakistan's entertainment industry?

https://www.instagram.com/p/BUMEp3GBckd/?taken-by=sabaqamarzaman

SQ: I always like to think positive. I believe that our industry will be very successful in the future as it is growing exponentially. We just need to keep improving and evolving for the betterment of the entire industry and not limit ourselves to personal gains.

I was never desperate to work in Bollywood: Saba Qamar

ET: What advice would you give to those trying to make it big in the entertainment industry?

SQ: I would just like to say that if you're someone who wants to achieve something in life, be it entertainment or anything else, you should believe in yourself first. Once you have achieved that, you need to work hard and with utmost dedication to reach soaring heights.

Have something to add to the story? Share in the comments below.