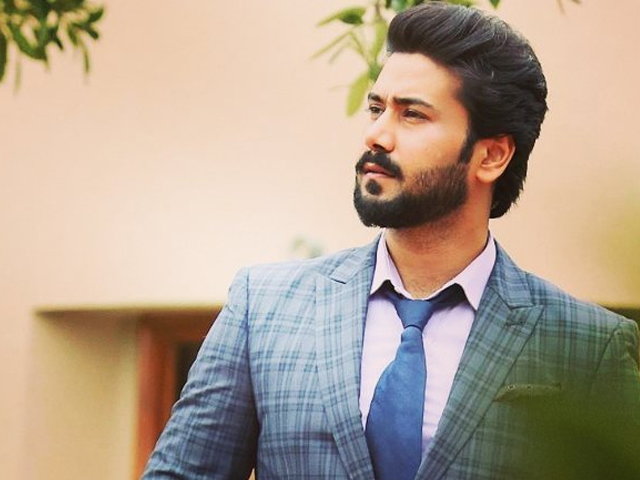 ---
DUBAI: Ali Abbas is not your regular hero. He started his career doing secondary roles but gradually developed his own niche as a lead hero. He is currently starring as the main protagonist in hit play Mera Khuda Jaanay wherein he plays Waleed, opposite Hira Mani, Anum Fayyaz and Aly Khan.

11 Pakistani dramas you can't miss this year!

The Express Tribune caught up with Ali to find out more about his past and his future.

'The Express Tribune' (ET): You are a lawyer as well. How did you come into acting?

https://www.instagram.com/p/Bhqv5rCB0Gu/?hl=en&taken-by=aliabbasofficial

Ali Abbas (AA): Coming to acting was a long hard journey for me since my father never wanted me to be an actor. I decided to pursue LLB after doing my bachelors in Business Administration and tried convincing him again to let me act but he said no – again! He wanted me to do my CSS! So I went to NCA to study film and TV and studied for CSS as well.

After getting done with the exams, I started working as a producer and later, a program manager. By that time, I had given up all hopes of becoming an actor and the dream became a nightmare. It was my wife, at the end of the day, who pushed me to quit everything and pursue acting full time. My father finally agreed.

https://www.instagram.com/p/BeKgN00l5nU/?hl=en&taken-by=aliabbasofficial

And so, I started contacting everyone I knew and auditioning for plays and projects. Quite a journey isn't it? My acting career started finally with a play in which I was the third lead. The first two years in the industry were really difficult as I wasn't offered enough work, money or respect. But then gradually things changed. And I have never looked back since.

ET: You're father is Waseem Abbas and mother, Saba Hameed. Clearly, you come from a family of actors. Did you ever feel intimidated or empowered? What was the dynamic like?

AA: Coming from such a strong family can be a blessing and a curse. For me, it was a curse since my father had categorically told me not to expect any kind of support from him and he stayed true to his word…No recommendations; no marketing gimmicks.

https://www.instagram.com/p/BaTOcRCFsny/?hl=en&taken-by=aliabbasofficial

But that worked for me because today, people respect me because I have made it on my own. You are right in saying there is a lot of pressure since my father is one of the most versatile actors of Pakistan so people expect that from me as well.

ET: You have a new play on air these days. Tell us what it's about?

AA: Mera Khuda Jaanay is a brilliantly written and directed play. Hira Mani is in the female lead and we have a great chemistry. As far as my character is concerned, it's one of the most difficult ones that I have played yet. He is mostly in grey areas like all of us are, in reality. Hira helped me a lot as a co-actor in developing my character and I am sure audiences will sympathise and hate me in this play. It's directed by Zeeshan Ahmed.

https://www.instagram.com/p/BZlDxAAlFUR/?hl=en&taken-by=aliabbasofficial

ET: What are the most difficult aspects of working in a Pakistani drama? People often say that there are not enough roles written for men. Is that true?

AA: The most difficult aspect, in my opinion, is nepotism in the industry. I have been lucky as far as characters are concerned. Being labelled as the 'Angry Young Man' actually worked for me, especially after Khaali Hath and Faisla. Most of the serials that I have done in the past two years have been male-oriented so if you ask me, that's not a problem.

ET: What about the 'dukhiyaari aurat' trope? Do you think it has been played out enough?

AA: Audiences have rejected the dukhiyaari aurat now. The world is moving ahead with women empowerment so I am sure we will also get over the dukhiyaari aurat soon!

https://www.instagram.com/p/BYu5vCBAxo5/?hl=en&taken-by=aliabbasofficial

ET: Who have been your inspirations in acting from Pakistan?

AA: My father has always been my inspiration. Like I said before , he is one of the most versatile actors of our industry but I usually don't brag about him for obvious reasons.

ET: How do you see the Pakistani film industry right now?

AA: Pakistan's film industry is in its infant stages so we need more films in the right direction; films like Jawani Phir Nahi Aani, Na Maloom Afraad, Cake and Motorcycle Girl. Our producers need to realise that we will have to establish commercial cinema first. Parallel cinema comes after that. It's common sense, you know…

https://www.instagram.com/p/BWcGvHTFxKc/?hl=en&taken-by=aliabbasofficial

Iqra Aziz and I are not romantically involved: Affan Waheed

ET: What can fans expect from you in the future?

AA: My future projects are really exciting. The next serial of mine that will air will be with Ushna Shah, Sanam Chaudary and Danish Taimoor. I am playing a real dangerous cop in the play, which has been directed by Furqan Khan and produced by Zeeshan Khan.

Have something to add to the story? Share in the comments below.
COMMENTS
Comments are moderated and generally will be posted if they are on-topic and not abusive.
For more information, please see our Comments FAQ