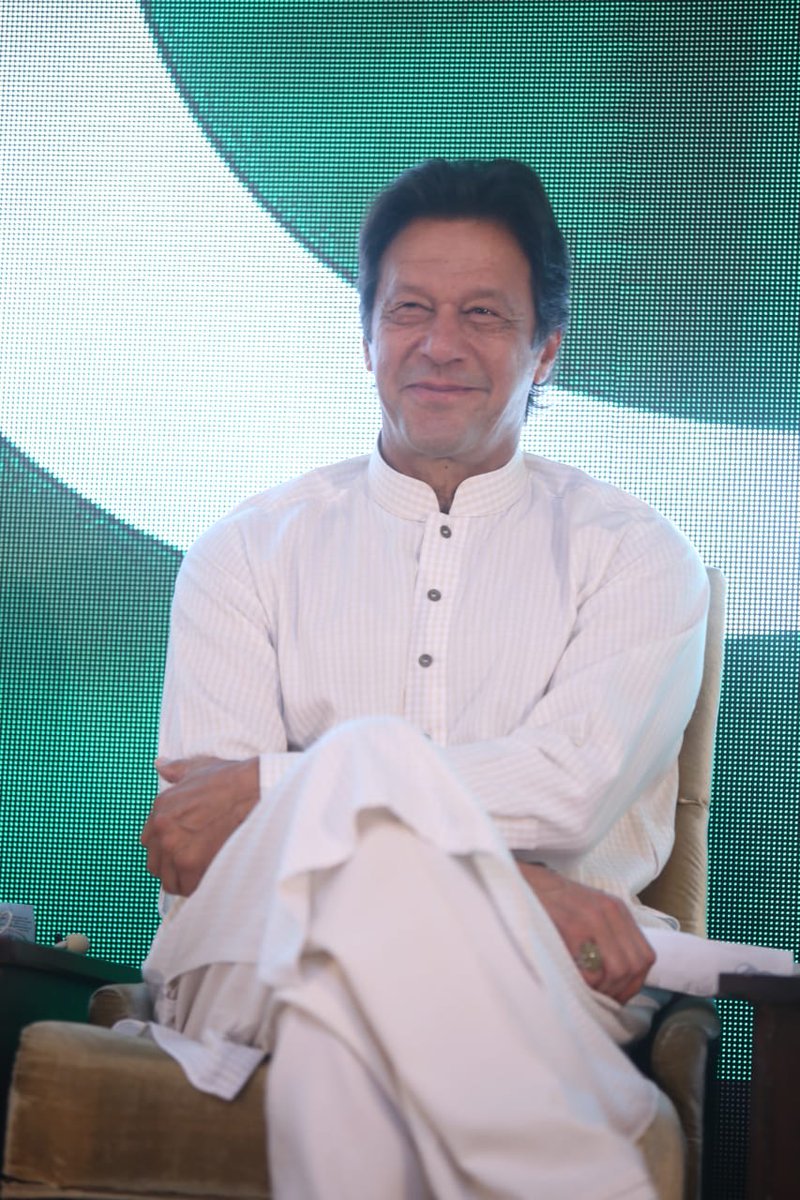 ---


Transforming governance, strengthening federation, revitalising economic growth, revolutionising social services, ensuring national security and developing the agriculture sector are among goals PTI hopes to achieve in its first 100 days after coming into power.

Pakistan Tehreek-e-Insaf unveiled its 100-day plan on Sunday in a function at a local hotel.

The event was attended by senior party leaders, including PTI chief Imran Khan.

This plan, Khan said, outlined major decisions needed to be taken when PTI was at the peak of its power:

"This [plan] will set our direction and serve as a roadmap of our actions, ideology and policies," Khan said, adding, "Now, PTI has valuable experience of governing a province – Khyber-Pakhtunkhwa (K-P). If we had formed the [federal] government in 2013, we would not have been adequately prepared," he said.

Reiterating PTI's desire to turn Pakistan into a model country on the pattern of true Islamic welfare state, he dismissed Sharif's narrative of 'Why was I ousted?' as misleading.

"This demonstrates how the mind of the powerful works. They are free to do whatever they want and not subject to accountability. They (PML-N) are prematurely scrambling to inaugurate the orange line for the [new] Islamabad airport. Did Nelson Mandela [run around] cutting any ribbons? Building motorways is hailed as a massive achievement. But if you build a nation, motorways will be built naturally," he said.

He said that PML-N's development plan was confined to projects offering greater 'commissions'.

He also talked about economic difficulties, environmental degradation, flawed taxation system, state of public education and religious seminaries, the absence of merit, and the politicisation of state institutions.

He said projects like CPEC were an opportunity but Pakistan could only benefit if it put its house in order.


Imran to unveil PTI's 100-day plan




"Overseas Pakistanis can help us by offering investment but only if governance is fixed here," he said.

He said that K-P's model of governance would be applied all over Pakistan.



Revitalizing Economic Growth



PTI MNA Asad Umar insisted that the prospective PTI government would create 10 million jobs in five years with a special focus on skill-building.

According to him, five million housing units would be built under the PM's Housing Programme for middle- and lower-income groups.

PTI, he said, would offer attractive incentives to facilitate rapid growth.

He said that the incentives would include reduction in taxes, realigning energy prices in line with regional competitors, clear the backlog of refunds and rebates.

He said that the party would launch a pro-worker labour policy, ensuring skill development.

The tourism industry, he said, would be upgraded and all government guest houses would be converted into hotels.

He promised to reform the FBR, making it more business-friendly and implementing an equitable tax policy for reviving the national economy and reducing debt dependence.

Umar said state-owned enterprises would be transformed by creating Pakistan Wealth Fund and by taking SOEs out of the purview of line ministries.

"Reforms will be introduced in PIA, Railways, Pakistan Steel Mills, power generation and distribution companies on emergency basis," he said.

Pakistan's energy challenges, he said, would be fixed and root causes of circular debt would be addressed.

He said that CPEC would really be turned into a game changer plan.



Strengthen the federation



PTI Vice-Chairman Shah Mehmood Qureshi said that PTI, if elected to power, would expedite FATA's merger with the KP.

Balochistan government, he said, would be empowered by launching a political reconciliation besides providing significant local participation in development projects.

He maintained that PTI would also work to create a south Punjab province. This, he said, would create an administrative balance between Pakistan's federating units. He also outlined the salient features of a package for transforming Karachi.



National security



MNA Shireen Mazari said that the prospective PTI government would upgrade the foreign ministry's institutional structure, increasing its global outreach and legal efficacy.

The input of key national stakeholders would be included in the country's foreign policy for informed decisionmaking.

New policies, she said, would be initiated under Pakistan's 'regional and global relevance plan', including a conflict resolution approach towards improving Pakistan's relations with its eastern and western neighbours.

She said that concrete steps would be taken to settle the Kashmir dispute within the parameters of UNSC resolutions.

PTI, she said, would also set up a 'National Security Organisation, headed by the PM, on the model of National Command Authority, while adding that NACTA would act as NSO's secretariat.

Pakistan, she said, would start implementing counter-terrorism policy based on 4 Es: 'Expose' links between active and passive terrorists, 'Enforce' full implementation and expansion of the National Action Plan, 'Eliminate' through isolation, extermination and blowback prevention, and 'Educate' by restructuring syllabi and mainstreaming madrasas.

Disqualified MNA Jehangir Tareen, K-P Chief Minister Pervaiz Khattak and former K-P chief secretary Arbab Shehzad also briefed participants about future systems of accountability, agriculture, water resources, health, education, and policing.

Implementation

The plan envisages Imran Khan selecting a 'cabinet of change' immediately after coming into power after the upcoming elections.