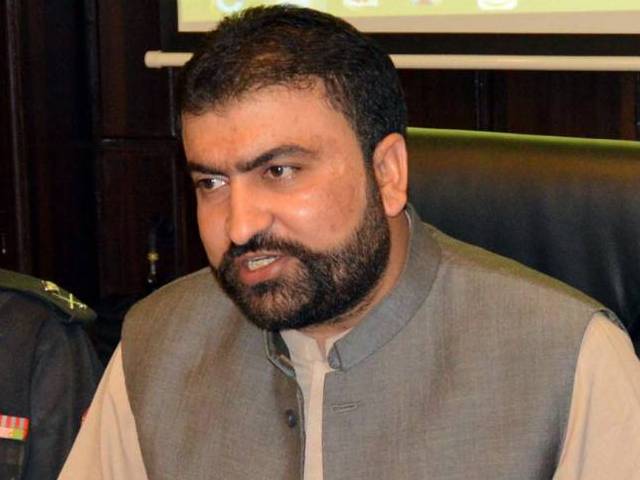 ---
QUETTA: Provincial Minister for Home and Tribal Affairs Sarfraz Bugti tabled an adjournment motion in the Balochistan Assembly to allow the four Pashtoonkhwa Milli Awami Party (PkMAP) members to tender their apology for using indecent language against the budget session chairperson MPA Shahida Rauf.

On Thursday, when Shahida Rauf gave the orders to ring the bell for lawmakers to attend the budget session, Ghulam Musatafa Tareen, Ubaidullah Babat, Syed Liaquat Ali Agha and Nasrullah went out of control and tried to grab her for no visible rhyme or reason. Their membership was suspended for their irrational behaviour.

Balochistan budget: Coalition partners clash over fund allocations

MPA Jamali had said that the PkMAP MPAs were angry over not getting a say in the allocation of Public Sector Development Programme funds in the provincial budget 2018-19.

The Balochistan Assembly session, chaired by Speaker Rahila Hameed Khan Durrani, commenced with a delay of two hours.

Members discussed the furor created by PkMAP MPAs on Thursday and condemned the use of abusive language against Shahida Rauf.
"All members have strongly condemned the behaviour of PkMAP members. Their membership can resume from May 20, if they apologise on the floor today," Bugti said while tabling the motion. "A politician must be flexible. I am sure an apology won't bring shame on them."
Chief Minister Abdul Quddus Bizenjo said, "The four opposition members have crossed all limits. Our assembly has rich customs and tribal precedents which must be followed at any cost."

Balochistan Assembly session adjourned due to lack of quorum

He said, "Opposition has the right to protest … even we did as for a year we didn't receive a single penny from the then coalition government, but those four members have brought shame upon all of us."
Opposition leader of PkMAP Abdul Rahim Ziaratwal apologised on behalf of the opposition bench and urged the house to reinstate their membership so that they could participate in budget debates.
The Balochistan chief minister applauded the opposition leader's remarks and apology, but emphasised that the four members must remain suspended for the next two budget sessions.
National Party's Sardar Aslam Bizenjo also condemned the misbehaviour of the PkMAP members and said, "Women in our tribal society are more respectable than in any other society. Before being on the Panel of Chairman, Shahida Rauf is a woman and should be respected."

Balochistan Assembly session marred by pandemonium

The Balochistan Assembly speaker said, "I have been running provincial assembly affairs for more than two years and have always been treated with respect by the honourable members."
The session unanimously stressed upon the four members to apologise to Shahida Rauf otherwise their membership would remain suspended.
On provincial budget 2018-19, opposition leader Ziaratwal said, "The opposition has completely rejected the annual budget and termed it against the masses' interest."
He alleged that the provincial government had violated legal terms in finalising the budget by including non-developmental project in the development one.
COMMENTS
Comments are moderated and generally will be posted if they are on-topic and not abusive.
For more information, please see our Comments FAQ