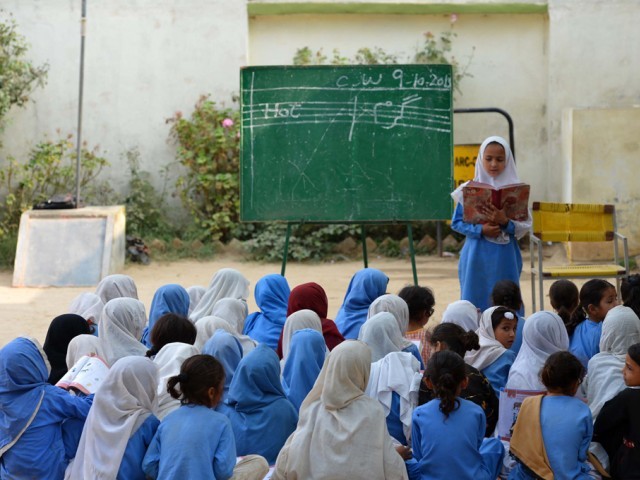 ---
ISLAMABAD: After the finance minister unveiled the government's 100-100-100 target during his budget speech late last month, a global body has pointed out the magnitude of challenge the government faces in meeting that target.

The United Nations Development Programme (UNDP) National Human Development Report-2017 (NHDR) has projected the given the current enrollment growth rate in the country, Pakistan can achieve its target of completely eliminating out-of-school children — currently estimated to be over 20 million —in six long decades.

Human development: Non-formal education best way to increase literacy

But if the government aims to achieve this target by 2030, a target set over a decade away, Pakistan would need to more than triple its current rate of net enrollment from 0.92 per cent to 3.8 per cent.

The report added that quality, not the quantity of education, should be enhanced to uplift the stagnant literacy rate.

The report has revealed that Pakistan's progress in literacy and enrollments in the formal schooling system has been spoiled by the persistent overlapping disparity in 'access to', and 'access in' education.

It further said that 'access to' education refers to the availability of educational institutions, admission procedures and infrastructure while 'access in' explains the quality of the teaching and learning and the level of participation in school life.

"Poor access to education in Pakistan leads to the country having the world's lowest completion rates for primary education. The abysmal levels of public spending on education under subsequent governments reflect on the poor quality of teaching and learning outcomes and inadequate infrastructure," notes the report.

Goal: Education must for economic progress

The report emphasised the need for the government to revisit its definition of literacy as it is a loose definition of literacy which bypasses two critical components - numeracy and life skills.

The 1998 national census, the report pointed out, counted anyone of 10 -years-of-age or older as literate if they can "read a newspaper and write a simple letter in any language ".

It further pointed out that Pakistan has committed to the Education for All (EFA) goal which entails achieving a 50 per cent improvement in adult literacy levels by 2015, along with equitable access of education for all.

However, the country still lags in its education targets.

As many as 9.45 million children at the primary -level were estimated to be out-of-school in 2015.

Published in The Express Tribune, May 19th, 2018.