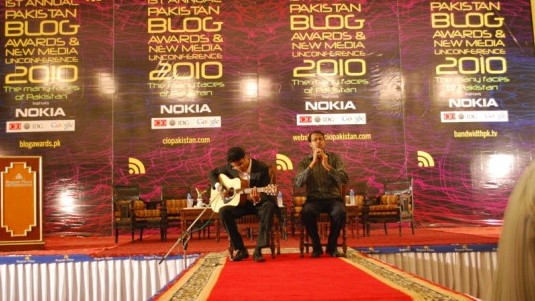 ---
The carpet was red. The set up was lavish too.

But these were not your regular glittery showbiz awards. Pakistan's first Blog Awards were held at the Regent Plaza hotel on Friday, drawing some 300 cyberspace luminaries and guests to an event that had more of an intellectual air to it than glamour.

The First Annual Blog Awards 2010 Ceremony and "UnConference" were organised by Google Pakistan and CIO Pakistan, presented by Nokia and sponsored by DELL, Cannon, Supernet and CommTell Soft.

In the words of Rabia Garib, CEO of Rasala Publications and Editor-in-Chief of CIO Pakistan magazine, the blog awards aimed to showcase the many voices of Pakistan.

"Blogging has usually been associated with technology, but these awards were not meant to be just technology blog awards," said Badar Khushnood, Google Pakistan Country Consultant, speaking to The Express Tribune. "The awards are for non-technology blogs too. The vision is to recognise bloggers and to bridge the gap between bloggers and media agencies."

Accolades were handed out to a total of 41 blogs in different categories ranging from celebrity, fashion and gossip to politics, current affairs and technology among a host of others. The winners were selected by a panel of professionals from around the world after a rigorous selection process from 207 entries.

The blogs had garnered thousands of votes from internet users, after which the panel of experts from organisations like Cisco, Unicef, Intel, P@sha, DawnNews, DELL, Demotix.com and educationists from Columbia Journalism School and Harvard University picked the best blog for the award.

The event kicked off with a musical performance by Salman and Yasir, two techies-cum-musicians. Next in line was the first panel discussion of the "UnConference" a term used by the organisers to describe an interactive session in which the audience not only listened, but also posed questions and participated in the discussion. Panel sessions alternated with the presentation of the awards in three rounds.

The conversation sessions were on the topics "Innovation in the media", "Selling 3.0" and "Engage and Converge" and drew on a panel of highly qualified IT professionals, journalists and popular media personalities like Naveen Naqvi, George Fulton and Sidrah Iqbal. The conversation sessions comprised discussions on wide-ranging topics such as the need for innovation and convergence in the media, citizen journalism, credibility and censorship, online advertising, viral marketing and increasing engagement with new media.

Panelists discussed how the age for single platform media companies is over and how blogging and citizen journalism is playing a major role in this, providing ordinary citizens an opportunity to have their voice heard and even being able to surpass the mainstream media in taking news to the public.

With 18 million internet users in Pakistan, it was felt that the internet provides a promising platform for bloggers to get their voice across and compete in a world where the traditional media no longer remains the only news provider.

The lengthy discussions that were part of the "Unconference" were one of the central features of the event that set it apart from the more conventional award ceremonies. This was indeed an event that gathered the digital-visionaries from society under one roof. The host Rabia Garib's and the participant's jokes now and then, helped keep the environment light and entertaining.

Appreciation for the initiative to provide recognition to Pakistani bloggers echoed among participants of the conference. "There is a great need for events like these," said Dr Awab Alvi, popularly known among the blogosphere as Teeth Maestro, who won the Best Political Blogger award. "Bloggers feel honoured by the recognition they have received from the print and electronic media. The merging of traditional media and new media must happen at an integral level."

"This kind of recognition is very important for people like me who have recently started blogging," said Rai Mohammad Azlan, a new blogger. "I was able to meet the people whose work I read."

Sana Saleem who received the award for Best Activist Blogger said, "It was overwhelming to receive recognition for my work and that too in a Jury Special category for best activist. For me my blog represents my voice and my struggle to highlight and speak about the most pressing problems of my people. So I take it not only as a recognition for me but also a realisation of the fact that these problems need to be highlighted and talked about more often."

The Blog Awards displayed the best of Pakistan's blogging and online community. Many of the winners and bloggers nominated for the awards were abroad and were unable to attend the event. However, they attended the event virtually as it was live streamed on the internet and Fariha Akhtar who received the Best Live Blogging award posted real time updates of the event on her blog.

Twitter too was abuzz with live updates about the Blog Awards with Twitter users using the hashtags "#PBA" and "#PBA10" to gather tweets about the event. Here is a collection of some of the tweets:

@Ammar_Haider: Once again Congratulation to each n every winner of #Pakistan #BlogAwards . U guys r future of#Pakistan. #pba

@farihaak A huge shoutout to @rabiagarib, @salaina, @badar76and entire CIO Pakistan team for putting together a greatttt event!!#pba

@usman_latif hope they discuss the censorship issue at #pba10#pba - talking about online media & internet in #pakistan

@faisalkapadia a very hearty congrats to all the #pba winners :)

Below follows the list of some of the winners of the Pakistan's First Annual Blog Awards 2010:

1. Best Celebrity Blog

Naveen Naqvi: naveenaqvi.com

2. Best Culture Blog

Yasir Niaz: yasirniaz.blogspot.com

3. Best Humor Blog

Tazeen: tazeen-tazeen.blogspot.com

4. Best Photo Blog

Awais Yaqub: www.photopakistan.blogspot.com

5. Best Current Affairs Blog

Adil Najam: pakistaniat.com

6. Best Diarist

Momal Mushtaq: mm89.wordpress.com

7. Best Travel Blog

Nabeel: eatntravel.pk

8. Best Political Coverage Blog

Ahsan butt: fiverupees.blogspot.com

9. Best Personal Blog

Salman Latif: salmanlatif.wordpress.com

10. Best Education Blog

Khurram Hassan Shafique: nextstepforward.net

To get the complete list of winners click here.

This article has been revised to reflect the following correction:

Correction: May 29, 2010

The article has been updated to include corrected paths to the blogs.