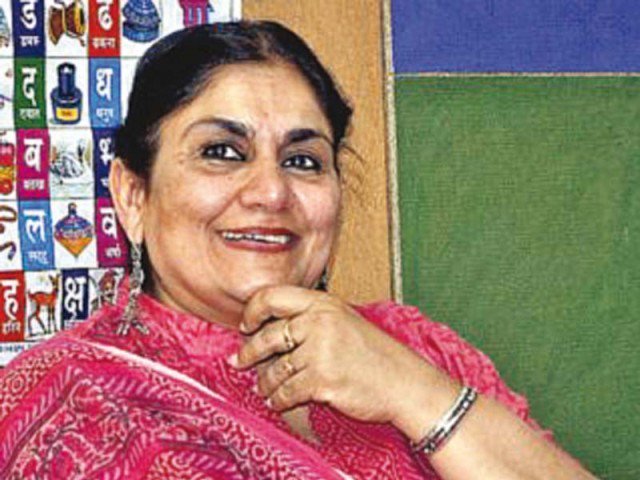 ---
LAHORE: Ajoka theatre recently organised a memorial to honour the services of its founder and artistic director Madeeha Gauhar. Titled 'Celebrating Madeeha', the event was held at Alhamra Hall, Lahore, with writers, intellectuals and theatre activists from across the border in attendance. Artists paid tribute to Gauhar's passion, progressive mindset and her significant contribution in making Pakistani theatre internationally known.




Kewal Dhaliwal, leading theatre director of eastern Indian Punjab announced that the 'Madeeha Gauhar Theatre Festival' will be held annually in Amritsar. Teams from both Pakistan and India will participate in the event to convey the message of peace, love and tolerance. He also announced a peace award named after Gauhar which will be presented to prominent peace, theatre and social activists selected from both countries.

Talking to The Express Tribune, Dhaliwal revealed that the Indian theatre community is deeply saddened following Gauhar's passing. A series of tribute programmes are also being held in various Indian cities including Kashmir and Kerala. He mentioned that the Sangeet Natak Academy in Chandigarh has arranged a memorial programme on May 26 and compiled a book based on collaborative productions with Ajoka theatre along with memories of working with Gauhar. It will be released in July.




Other Indian theatre activists including Sahib Singh, Neelam Man Singh, Bibi Harjinder Kaur, Ramesh Yadav, Parminder Singh and Mazhar Hussain shared their experiences of working with Gauhar. They all spoke very highly of the late artist's services towards cultural exchange. While paying their tributes, they also expressed that Gauhar was a courageous woman who served as a bridge between India and Pakistan.




The ceremony started with the lighting of a lamp brought by Indian troupes and was followed by a violin performance by Gauhar's elder son, Nirvaan. After that, a documentary highlighting Gauhar's creative journey, motive behind the inception of Ajoka theatre, major directions, commitment for the revival of socially relevant and meaningful theatre and struggle for peace and Human Rights was screened.




Prominent personalities from different walks of life including Qamar Zaman Kaira, Waleed Iqbal, Ibn Abdur Rehman, Asghar Nadeem Syed, Farrukh Goindi, Paren Boga were also present. "Madeeha became a symbol of resistance in the 1980s and worked bravely for the restoration of human rights," said Kaira. "She was a firm believer in democracy, freedom of expression and the rule of Law like all progressive parties of Pakistan." According to Rehman, "Madeeha not only revived the traditional form of theatre but also enriched it with modern techniques in a very convincing manner."

Bilawal Bhutto visits late actor Madeeha Gohar's home to pay condolences to her family

The team of artists at Ajoka went on to present extracts from different plays directed by Gauhar which included Kaun Hai Yeh Gustakh, Chaak Chakkar, Dukh Darya, Jaloos, Dekh Tamasha Chalta Ban among others. Singers crooned various mystic songs and qawwalis that were featured in her popular plays such as Aaj Rang Hai and Uth Gaye Gawando Yaar.




Activist Roshaneh Zafar paid homage to Gauhar by reciting Faiz Ahmad Faiz's Dasht-e-Tanhai. Activists from over the world including Dr Fowzia Afzal Khan, Sadia Delhvi, Zeba Hyder and Raza Roomi sent in exclusive messages for Gauhar.

The programme ended with personal statements from Gauhar's family members. Her husband Shahid Nadeem vowed that Ajoka theatre will carry on its mission set by Gauhar – to enlighten through art with the same spirit and motivating plays in the future.

Have something to add to the story? Share it in the comments below.