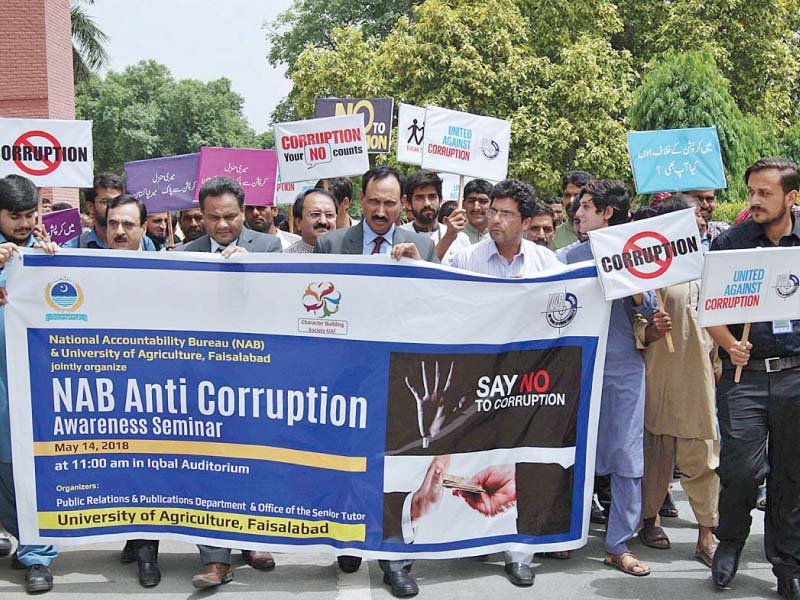 ---
FAISALABAD: Teachers, religious scholars, community elders and other stakeholders must pay special attention to inculcating moral and ethical values among people to wipe out corruption, said University of Agriculture (UAF) Vice Chancellor Dr Muhammad Iqbal Zafar.

He expressed these views during an anti-corruption seminar arranged by UAF and the National Accountability Bureau (NAB) at Iqbal Stadium. Corruption is not only limited to finances; it also includes a lack of commitment in shouldering responsibilities, he emphasised.

There is a need to create awareness among people in order to wipe out this menace which eats away at our economy and hampers the progress of our country, he stressed.

Incorporating ethical practices is a step towards paving the way to completely obliterating corruption, he added. The varsity is making efforts in order to instil good characteristics within students so that they are able to play an effective role in the development of the country, he highlighted.

NAB Deputy Director Muhammad Sajid defined corruption as moral impurity, committing acts of wrongdoing and misusing authority for private gain. Different methods of corruption include bribery, embezzlement and nepotism, he listed urging the people to not indulge in any such activities which are against the law.

NAB Karachi approves various corruption cases for investigation

Corruption is an evil that is able to decrease productivity and economic growth, increase prices of basic commodities and reduce domestic and foreign investments. It not only deepens the extent of poverty but also undermines the legitimacy of the state, he articulated.

NAB aims to be a credible, efficient, effective and dynamic anti-corruption organisation that strives to create an environment for a corruption free society by engaging all stakeholders. Our mission is to eliminate corruption through a three-pronged strategy; enforcement, prevention and awareness, he disclosed.

In addition to the seminar, the organiser also held a rally to create awareness.

Published in The Express Tribune, May 15th, 2018.