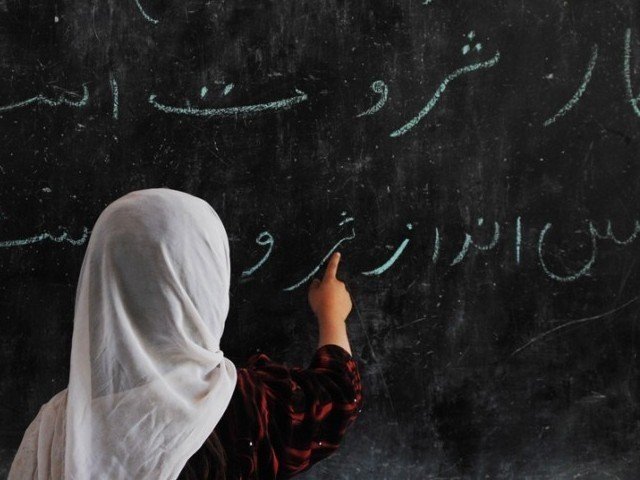 ---
PESHAWAR: The Khyber-Pakhtunkhwa (K-P) government has done much to improve the education standard and provide all facilities in government-run schools; however, there are still thousands of schools without basic facilities across the province.

According to Khyber-Pakhtunkhwa Elementary and Secondary Education Department (K-PESED) from 2013 to 2018, more than Rs36 billion have been spent under conditional grant schemes to provide basic facilities in schools.

However, on the other hand the K-PESED's own annual statistical report 2017-18 compiled by Independent Monitoring Unit (IMU) stated that out of 27,350 functional schools 7,182 schools do not have electricity from day one

Report showed that there are 21,033 primary schools and  6,388  of 4,405 boys are for boys and 1,983 for girls schools are without electricity connection, while the students are studying in hot and humid conditions.


Goal: Education must for economic progress


Similarly, out of 5,538 secondary schools 794 both male and female schools are without electricity connection, while it is surprising that in this day and age there is no electricity for aspiring students higher education students getting education without electricity.

The report further stated that 2,203 schools including 346 girls' schools are without boundary walls. While on the other hand, after Army Public School massacre in December 2014, K-P government strictly directed education department to cover all schools and construct its boundary walls.

Similarly, out of the total number of schools in the province as many as 5,047 schools including 1,298 girls' schools have no clean drinking water facilities and 2,229 schools including 1,854 boys and 375 girl's schools have no toilet for students and other staff.

K-P Elementary and Secondary Education Muhammad Atif Khan on his social media page shared that incumbent government had spent  Rs36 billion and provided solar electricity to 5,773 schools across the province.

He also claimed that government has constructed boundary walls of 16,173 schools and additional classrooms in 14,158 schools in the province.

He further claimed that the government had provided furniture for 1.5 million students and teachers, provided clean drinking  water facilities in 15,624 schools, constructed toilets and sports facilities of sport in 10,000 schools across the province.

Published in The Express Tribune, May 13th, 2018.
COMMENTS (5)
Comments are moderated and generally will be posted if they are on-topic and not abusive.
For more information, please see our Comments FAQ