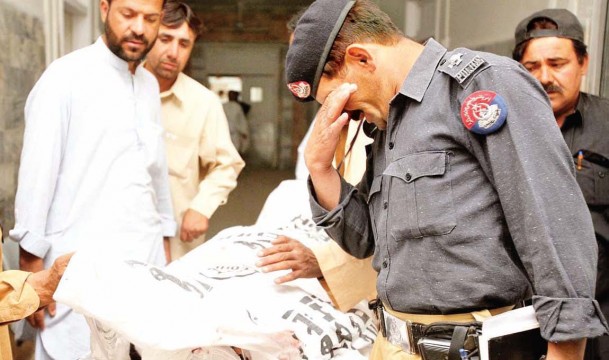 ---
Four policemen – including a Station House Officer (SHO) – were killed in an ambush in the Satellite Town neighbourhood of the city on Friday morning. The outlawed Lashkar-i-Jhangavi sectarian group claimed responsibility for the attack.

Official sources said that a police mobile van was on a routine patrol in the jurisdiction of Satellite Town police station around 7am when three armed men lurking in Lango Street opened indiscriminate fire on the vehicle.

The sudden attack did not allow the policemen to retaliate. As a result, a constable died on the spot and three more policemen, among them Abdul Khaliq, SHO of Satellite Town police station, received multiple bullet wounds. The injured expired while being transported to Quetta's Sandman Hospital.

"The attackers were lurking in the narrow Langov Street. And they ambushed the police party as soon as it approached them," Capital City Police Officer (CCPO) Ghulam Shabir Shiekh told The Express Tribune.  The gunmen managed to flee before police arrived at the scene. Following the ambush, police raided several places and rounded up more than a dozen suspects, an official told The Express Tribune.

The outlawed sectarian outfit, Lashkar-i-Jhangavi, claimed responsibility for the ambush in a telephone call to media persons in Quetta.

The funeral prayers for the slain policemen were offered in the Police Lines, where senior police officers and government officials had turned up.

An official tally shows that around 21 policemen have been killed and 37 injured in incidents of firing so far this year. "Police have arrested six people for their suspected links with the LeJ in the past five months," a senior police official said.

Meanwhile, gunmen riding a motorbike opened fire on another motorcyclist and his spouse riding pillion on Sabzal Road.

The man, identified as Muhammad Asif, received several bullets to his upper torso and died on the spot, while his wife – Shakila Bibi – also sustained bullet wounds. However, doctors at the Bolan Medical College Teaching Hospital said her condition was stable.

Asif was an employee of the Bolan Medical Complex. The motive behind his murder could not be ascertained. Police said they were investigating the matter.

Published in the Express Tribune, May 29th, 2010.