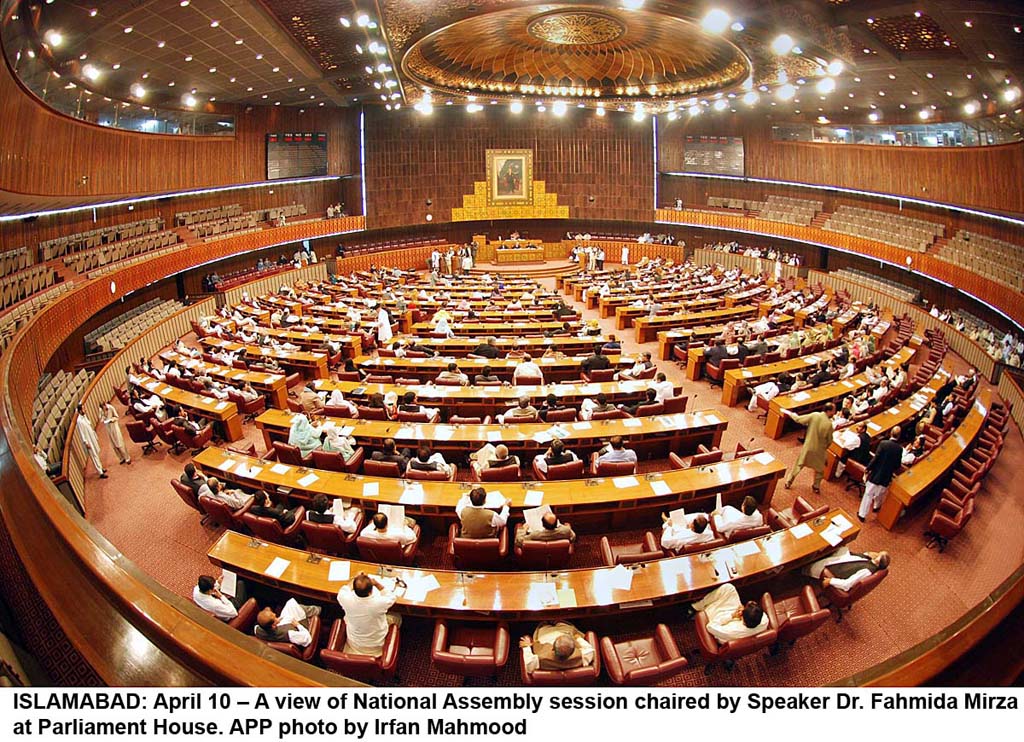 ---
ISLAMABAD: Prime Minister Shahid Khaqan Abbasi on Wednesday lashed out at the National Accountability Bureau (NAB) for launching a probe against deposed prime minister Nawaz Sharif over alleged laundering of $4.9 billion to India.

NAB Chairman Justice (retd) Javed Iqbal ordered the probe after a Sept 2016 World Bank migration and remittance book reported that India's foreign exchange reserves had increased by $4.9 billion due to huge cash inflows attributed to money laundering, inflicting losses to Pakistan's national kitty.

But just hours after the probe was ordered, the World Bank rejected the claim that its two-year-old report on remittances leveled money laundering allegations against Sharif.

Speaking on the floor of the National Assembly, PM Abbasi condemned the 'blatant political persecution' and said, "This house should form a committee to probe this matter and summon the NAB chief to investigate this issue and ask him about evidence and information [over allegations of money laundering]."

The National Assembly's budget session was lackluster until the PM arrived and launched his tirade against the accountability watchdog.

He said everybody knew that NAB had been created during a dictatorial regime to target politicians and to force them to change their party loyalties.

Preparations underway in Adiala to house high-profile inmate, claims Nawaz

"First Pakistan Peoples Party (PPP) and then Pakistan Muslim League-Nawaz (PML-N) tried change the NAB law, but could not do so because of a lack of consensus," he said.

Abbasi said he did not expect any justice from NAB. Citing a few excerpts from the NAB press release carrying the probe order, he questioned the mechanics of such an order and said the head of such an organisation was empowered to issue such an order without verifying facts.

Expressing surprise that the NAB chief had been appointed by the lower house of the parliament itself, he said, "The country cannot be run like this… this is very dangerous."

He said if such actions "are endorsed by parliamentarians, they should look into it and take the public into confidence as well".

The PM expressed grave concern over the probe order coming just three month before the end of the National Assembly's tenure and said it smelled of pre-poll rigging "which is a shameful act".

"How can institutions function if they are headed by people with such mindset. It is obligatory [upon parliament] to probe the matter and let all Pakistanis know the facts," he said, calling upon the house to form a committee to probe the matter by summoning the NAB chief.

He reminded the lawmakers that a new accountability law was being formulated, but it could not be finalised even after three years. He suggested that it could be debated upon and worked out.

"We are ready to debate the law. It should not necessarily be retrospective," Abbasi maintained.

Speaking to the house, PPP's Naveed Qamar said he shared the PM's concern, but the interference of the legislative branch in affairs of autonomous institutions would set a new precedent.

He said he would consult his party about being part of such a committee. "We will discuss the matter with our parties and let the house know," he said.

Opposing the move, Asad Umar of the Pakistan Tehreek-e-Insaf (PTI) said he was surprised at the PM's reaction to a document which came from none other than the World Bank.

"NAB is doing what the Ministry of Finance should have done in the first place," he said, adding that his party would oppose any such probe. Intervening in public bodies affairs would set a dangerous precedent, remarked Umar.

NAB to investigate money laundering allegations against Nawaz

Aisha Syed of the Jamaat-e-Islami said the move would not serve justice at all.

Mehmood Khan Achakzai of the Pashtunkhwa Milli Awami Party (PkMAP) said if such a crime had been committed, it needed to be probed; and if not, serious action needed to be taken.

The minister for parliamentary affairs told the speaker that he would hold talks with political parties and let him know about the formation of any such committee in two days.

Earlier, Defence Minister Khurram Dastagir Khan also called for probing NAB's internal process and said it amounted to targeting Sharif for no reason.