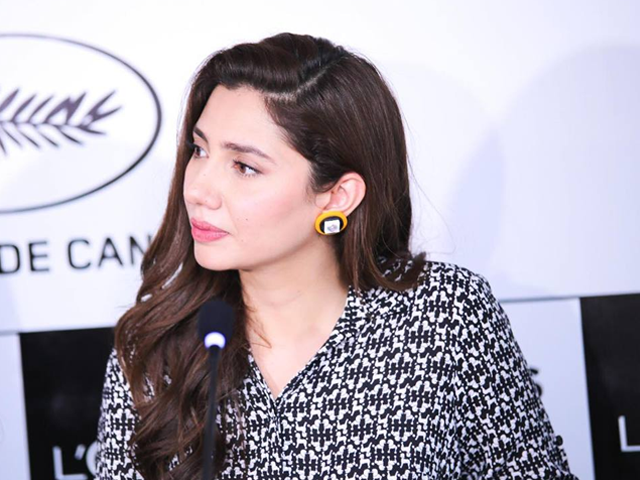 ---
KARACHI: Mahira Khan is all set to head to the prestigious Cannes Film Festival this year as a Hair Care spokesperson for makeup giant, L'Oreal Paris.

Mahira Khan headed to Cannes Film Festival? Her latest Instagram post suggests so!

For the last 21 years, the cosmetic group has been in association with Cannes and this alliance has always turned eyes on the red carpet because of its official representatives. These include the likes of Julianne Moore, Jane Fonda, Eva Longoria, Sonam Kapoor, Ashwariya Rai Bachchan and Deepika Padukone.




In a press conference held in Karachi on Tuesday, Mahira spoke about her upcoming trip to Cannes and what fans can expect from the event.

Mahira's stardom 

Talking about the Bol starlet's selection as the first Pakistani to ever go to the prestigious film festival, L'Oreal Cannes managing director Musharraf Hai said, "Mahira is a role model for young women in Pakistan and her appearance at Cannes is just the beginning to showcase Pakistani talent globally. It's an honour to stand shoulder to shoulder with such big names and I'm sure Mahira will excel at it!"

Here are five things the Raees actor revealed about going to Cannes.

1. She's extremely nervous




The Ho Mann Jahaan starlet said she's very excited about her debut at Cannes Film Festival but extremely nervous as well. "Well, I'm getting nervous day by day," said Mahira. "Everyone keeps telling me, 'This must be so exciting' and I keep telling them that I feel like I'm a player for a Pakistani team but I'm playing alone. I'm very grateful to be associated with this brand. There are so many international stars that have been representing L'Oreal at Cannes. I'm on my nerves to stand beside them."

2. She has no clue what she will be wearing.




Mahira was asked again and again about what she will be wearing at Cannes. To this, the superstar surprised everyone by saying, "I have no clue." She further added, "I have no idea what I'm going to be wearing and it's all just getting decided as of now. The only thing I'm very worried about is that Cannes red carpet is one of the longest red carpets in the world. I hope I don't trip and fall."

3. She believes Pakistan's appearance at Cannes will open up more doors for its artists globally 




"Cannes is just the beginning," stated Mahira. "We're only introducing ourselves at the platform we have been provided. I wish to take this opportunity further and hopefully people will get to see our art, cinema, culture."

4. She will most definitely be herself




When asked how the starlet plans to represent Pakistan on an international level, and how she is preparing for it, Mahira said she believes there's no point in sugar-coating anything. "I never actually prepare myself for anything that I'm asked, ever," she said. "Sometimes, I say things that later on I maybe do regret, but it comes from a place of honesty at least. I always tell myself to hold my own. But then again, I have to be a little careful of what I say since I'm representing Pakistan on an international stage. So yeah, I have to take care of myself."

5. She hopes to smash the ball out of the park!




Mahira continued saying that she can't prepare herself. "My friends have been on my case, asking me to learn how to pose. It's a lot of pressure. I hope people are kind to me, understanding that it's my first time, or I really just hope that I smash it out of the park!"

The starlet will walk the red carpet on May 15 alongside her Indian counterparts Sonam and Deepika. We can't wait to see what she wears!

Have something to add to the story? Share it in the comments below.