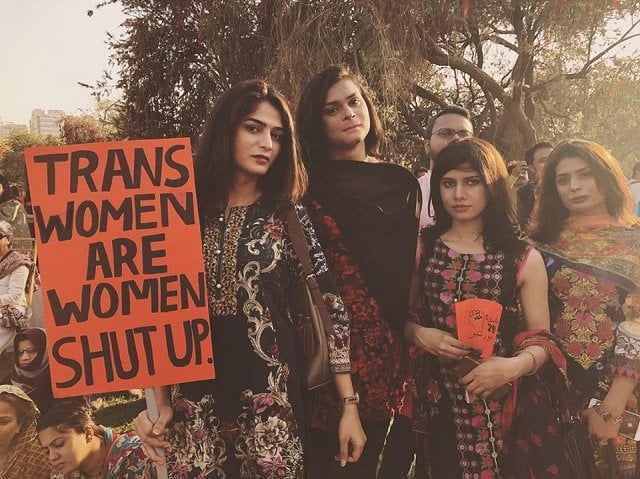 ---
KARACHI: It's been less than a week when assailants fatally shot Muni, a trans woman in Mansehra after she refused to give a local criminal the Rs1,000 she painstakingly had earned for dancing at an event.

There is a widespread rise in attacks on the local transgender population of Khyber-Pakhtunkhwa (K-P), with Muni's murder being the fourth such killing in 2018 and the 57th since 2015 in the province.

According to rights activist, Taimur Kamal, who earlier spoke to The Express Tribune said, "No one cares about the violence against transgender persons...the police themselves actually aided the culprit in fleeing after he was caught by locals there."




However, on Tuesday, the National Assembly of Pakistan was able to pass the historic "Transgender Persons (Protection of Rights) Bill 2018" with an overwhelming majority, setting a new milestone that seeks to promote "protection, relief and rehabilitation of rights" for a disfranchised gender minority that has been oppressed and marginalised for decades.

NA passes controversial transgender persons' bill

Although Pakistani legislation has always been considerably 'progressive' when it comes to provisions that protect the rights of the transgender community, it has never been fully enforced or incorporated as a 'law' to protect the rights of transgender persons.

Pakistan was one of the first countries to legally recognise the rights of all transgender persons as 'equal citizens' when the Supreme Court of Pakistan in 2009 passed orders to include all transgender persons in the category of 'third gender'.




This achievement was only made possible after decades of transgender activism which was intended to ease the troubles of this neglected and often ostracised community, who till this day, and despite the Supreme Court's judgement, face issues in obtaining Computerised National Identity Cards (CNIC) which state their self-identified gender.

Transgender subjected to 'torture' in Peshawar

The current Bill was presented in the National Assembly by Pakistan People's Party lawmaker Naveed Qamar and supported by Senators Farhatullah Babar, Rubina Khalid and Dr Karim Khwaja, who were also instrumental in pushing the bill through the Senate in March.

Neeli Rana, renowned transgender activist from Lahore, congratulates the community on passing of the Transgender Persons Bill and appreciates collective efforts that went into this.#TransPower #TransIsBeautiful #KhawajaSiraPride pic.twitter.com/C0RnDfQvQO

— Mehlab (@mehlabjameel) May 8, 2018

Initially, the Bill did face fierce objections pushed forward by the likes of Senator Naeema Kishwer of Jamiat Ulema-e Islam- Fazal group (JUI-F), who recommended to refer this Bill to the standing committee and Council of Islamic Ideology (CII) for a detailed review due to what she alleged were "un-Islamic clauses".

The allegation was refuted by members of civil society and legislators working on the bill, who were able to convince the Senate and the CII that the provisions of the bill are fully compatible with the principles of Islam and the Constitution of Pakistan.

Some of the key provisions of this approved bill include:

1. Transgender persons have the legal right to register and obtain a  driver's licence and passport;

2. Transgender persons have the right to get their gender changed within the National Database and Registration Authority (NADRA) records in line with their self-perceived identity;

3. Prohibition of harassment and violence against transgender persons at home and in public places;

4. Transgender persons are not to be discriminated against by educational institutions, at their workplaces, when doing business, at health services, when using public transport, and when buying, selling or renting property;

5. Establishment by the government of safe houses and provision of health care centres, educational facilities and psychological counselling for all transgender persons;

6. Establishment of separate cells at jails where transgender persons are detained;

7. Entitlement to inherit property;

8. Equal employment opportunities for transgender persons to be provided by the government;

9. Every transgender person has the legal right to vote in all national, provincial, and local government elections and shall not be discriminated against in their pursuit of a public office;

10. Anyone found guilty of forcing a transgender person to beg will be sentenced to six months in prison and a fine of Rs 50,000.

The bill still now only awaits the president's signature to become law.

Currently, in Pakistan, there is no specific data about the exact number of transgender in the country, with unofficial estimates suggesting that between 500,000 and 800,000 people might self-identify as transgender, but the census carried out in 2017 indicated that there were only 10,418 'transgender persons' in Pakistan. Experts point out that this misrepresentation may be due to the lack of legal provisions which wasn't able to previously allow a 'transgender person' to legally identify themselves with their self-identified gender.

Some words on Trans Bill from Bindiya Rana, or Madar-e-Khawajasira as we like to call her, a passionate leader of the movement who fought the battle in the streets for decades for young folks like us to be able to claim our space today. Maa jee ❤️ #TransPower #TransLives pic.twitter.com/EB6cK31rT3

— Mehlab (@mehlabjameel) May 8, 2018

The bill also removes much of the legal ambiguity that surrounds the definition of 'transgender person'.

The bill contains three definitions. Anyone fitting in one of the three can be considered a 'transgender person'.

(i) Intersex with a mixture of male and female genital features or congenital ambiguities; or

(ii) Eunuch assigned male at birth, but undergoes genital excision or castration; or

(iii) A transgender man, woman, 'khawaja sira', or any a person whose gender identity or gender expression differs from the social norms and cultural expectations based on the sex they were assigned at the time of their birth.

Our sweetest Ashee Butt, a much respected name in the community, who started a shelter home for elderly, disabled, sick khawajasiras, BeGhar Foundation, from the money she earned by singing & giving blessings to newborns & dancing at weddings all her life. #TransPower #TransLives pic.twitter.com/E7xR6Xrgyn

— Mehlab (@mehlabjameel) May 8, 2018

Speaking to The Express Tribune, some of the leading lawyers, civil rights and transgender activists involved in the drafting, legislating and lobbying of the bill reacted with joy and hailed this day as an important milestone towards achieving transgender equality in the country.




Jannat Ali, a classical dancer and transgender rights activist who was actively involved in spearheading the legislation, said, "When we started to work on this bill, there were a lot of barriers we faced. We weren't even appreciated when we spoke about it and many people would comment that the bill won't pass."

"I took it as a challenge to help my community," she said, adding that it was a collective effort in which some of the leading transgender activists Ashi Jee, Aisha Mughal, Mani AQ, Mehlab Jameel, women lawyers such as Sabahat Rizvi, Sarah Suhail and Nighat Dad and Feminist Collective were able to team up to draft the initial bill.




"At first, there were many problematic clauses in the bill, even the very definition of gender identity wasn't given. Basic rights such as inheritance, the right of assembly, and many other critically important clauses were missing. Even violence and rape against transgender persons wasn't considered as rape." she adds.

In a first, transgender person becomes news anchor in Pakistan

"We raised our voice against it; we wanted equal rights in all places whether it is schools, hospitals, property inheritance or family rights. This should be guaranteed for all transgender people. For me, it is a moment of truth, we have proved that we are not less than any other person and we were collectively able to challenge the existing laws and fight for change. I feel like this is a battle which we will definitely win, one step at a time." Jannat passionately asserts.




According to Transgender activist and anthropologist Mehlab Jameel, who was also actively involved in mobilizing the transgender community to work in liaison with the civil society, parliamentarians and lawyers said, "This Bill provides a progressive base for all of us to do further work regarding transgender rights in the country"

It's official! Just confirmed NA passed the Transgender Persons Bill in original form as passed by Senate. Will be signed into law by the President. THIS IS HUGE!
The Bill was drafted with collective input from community, trans activists & feminist allies. It's a win✌

— Mehlab (@mehlabjameel) May 8, 2018

"Being part of the legislative process, my involvement with this bill was more of an intervention to make the voices of my community heard, which definitely this legislation seeks to address which was often is ignored before. As transgender persons, we had to claim our space and stand our ground. And while we had our foot in the door, we tried to make room for others,"  she emphasizes.




"I am grateful for the dedication and support of Senator Farhatullah Babar, whose passion and support has made this day possible. Dedicated parliamentarians like Rubina Khalid also took this bill forward. None of this would have been possible without the support of senior Khawaja Sira activists and our feminist allies."

"Ultimately this was a collective effort of the community for the community and hopefully, it will lead towards a better, safer and more empathic society for transgender people," Mehlab concludes.

Congrats on the passing of the Trans Rights Bill in the National Assembly today. Hard work of all the activists, community @mehlabjameel @sarahsuhail and politicians like @SF_Babar @RubinakhalidPPP paid off. #Pakistan #SomeGoodNews

— Nighat Dad (@nighatdad) May 8, 2018

Lawyer and Digital Rights Activist Nighat Dad another key supporter of transgender rights in the country, said, "One of the beautiful part of working on this bill was that a lot of people who were involved worked tirelessly to make it as appropriate for the trans community as possible and they all did so voluntarily on their own financial resources."

"This selfless commitment towards the Bill shows the passion and the dedication shown by everyone involved, this all indicates that those involved only wish to see positive change through implementation of Transgender Protection Bill, 2018" according to Ms Dad.

Aradhiya Khan, a transgender youth activist from Karachi commented that for her, the passing of the bill has brought "a day of happiness and a day of celebration". She dedicates this as a "historic victory" for all the transgender community and its allies.




"As a transgender youth activist, I work as a community mobiliser to empower other transgender people. I am happy to see the struggle of my community bear fruit. The passing of this Bill is the second milestone that we've achieved, the first being the CNIC, I am really honoured we are able to experience this whole thing."

"I have previously been able to study this bill in detail, and to my knowledge, this is clearly a very 'inclusive and well-defined' piece of legislation as it clears facts on many issues which were previously ambiguous or considered taboo, like definition of transgender person, inheritance laws, education, employment, against harassment and violence" Aradhiya confirms.

"I hope our sacrifices and the lives lost will not go in vain, this bill is more than a piece of legislation I see my community's hard work and struggle invested in it. So, its a day to not only rejoice but to be proud also for what we've achieved collectively as a community", she added.
COMMENTS (1)
Comments are moderated and generally will be posted if they are on-topic and not abusive.
For more information, please see our Comments FAQ