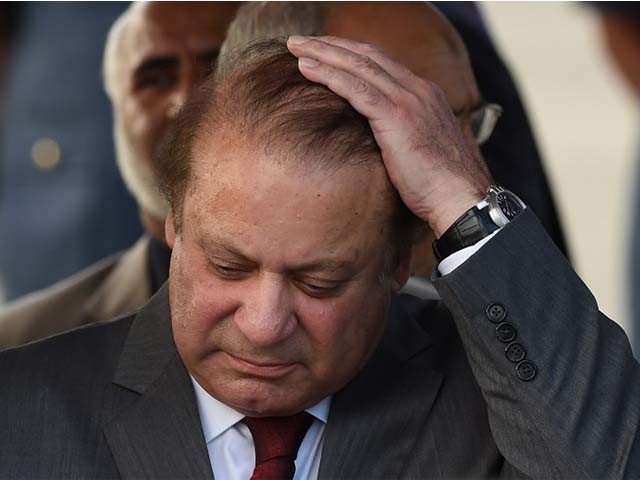 ---
The National Accountability Bureau's (NAB) Chairman Justice (retd) Javed Iqbal, taking notice of the money laundering allegations, ordered an investigation against former premier Nawaz Sharif.

On September 21, 2016, the State Bank of Pakistan (SBP) had categorically rejected a report that suggests an outflow of $4.9 billion from Pakistan to India as remittances and had termed it contrary to facts.

In a press release issued by the country's top anti-graft body, the chairman took notice of reports making rounds on news channels claiming that Nawaz laundered $4.9 billion to India.

The media reports claim that a record of this exists in the World Bank's Migration and Remittances book of 2016. The reports claim that the injection of such an amount into India's foreign reserves resulted in an increase in their resources for which Pakistan is still suffering.

Accountability court requests SC for second extension in Sharif trial

Once formulated, this will be the fifth case against the ousted premier by the NAB.

Earlier today, the accountability court sought more time from the top court to end the trial on references filed by the National Accountability Bureau (NAB) against members of the Sharif family.

Accountability court judge Muhammad Bashir, who presides over the hearings, has written a letter to the top court requesting for a second extension in the trial. Earlier in March, the Supreme Court had granted a two-month extension to the accountability court to wrap the proceedings.

The only political casualties of Panama Papers: Iceland's PM, Spanish minister and Nawaz

The three-judge bench, headed by Justice Ejaz Afzal Khan and comprising Justice Azmat Saeed Sheikh and Justice Ijazul Ahsan took up the pleas, filed by NAB and the accountability court judge.

However, as the two-month deadline expires, the case is nowhere near its end, with the Al-Azizia Steel Mills and Flagship Investments still untouched, the country's top anti-graft body is running out of time.