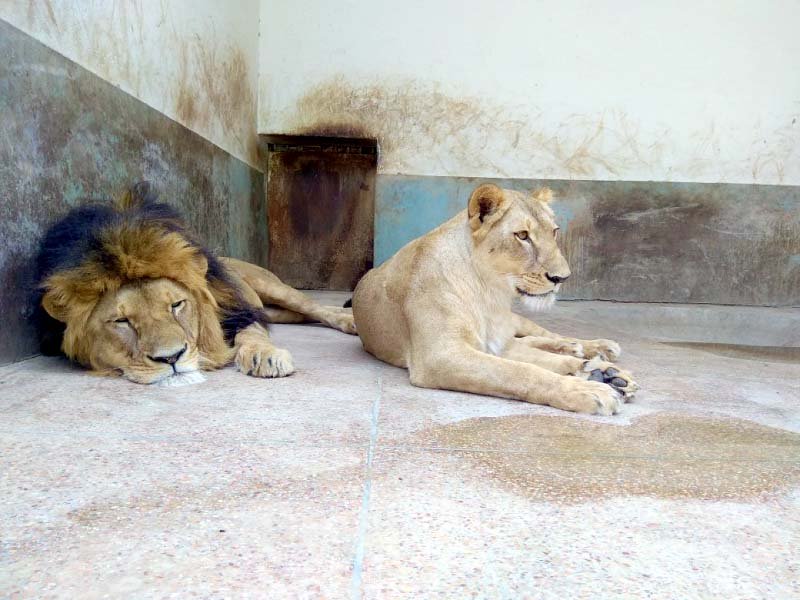 ---
LAHORE: The administration of Lahore Safari Park is concerned because four lions of the African race are suffering from paralysis.

"The paralysis has affected their backside and they cannot move about like other lions," said  Lahore Safari Park Deputy Director  Shafqat Chaudhry. "Their cubs are also likely to inherit the disease."

Two male lions aged between 2.5 and three years and two female African lion are suffered from paralysis due to calcium deficiency, he said. He added that the lions suffer from this problem when they reach the age of six months and one year. "Due to consumption of beef continuously, the amount of phosphorus increases in their body and the quantity of calcium decreases. This leads to their bones weakening which then causes paralysis."


Photo of caged lion cub draws public ire


Chaudhry said that two males and two females are suffering from this problem. However, there has been an improvement in the condition of one pair and they have started walking on one leg, while the other pair's condition is still dismal.

A few years ago, this problem came to the limelight in Lahore Zoo after which the breeding of such lions was stopped so that the disease could not be transferred to their offspring, said Chaudhry. "They started the practice of providing the lions with chicken for two days a week along with beef. Now no lion in the Lahore Zoo suffers from this disease. This practice is now being employed in the Lahore Safari Park but several months will be required for these lions to recover."

On the other hand, with the start of the summer season, ice is being kept in the cages of lions, tigers, jaguars and bears to protect them from the intense heat. The shadow of trees also remains on these cages. The nature of lions changes in summer as they become more aggressive. However, to keep their mood cool, their surroundings are kept cool. At such times the amount of milk along with beef is increased. The African lions are currently bearing the heat and the provision of ice will be ensured in July and August when humidity will rise. As of now, there are 23 brown African lions of which 8 are males and 15 females. There are another 4 brown tigers and one white tiger. This includes one male and three females.

Published in The Express Tribune, May 6th, 2018.