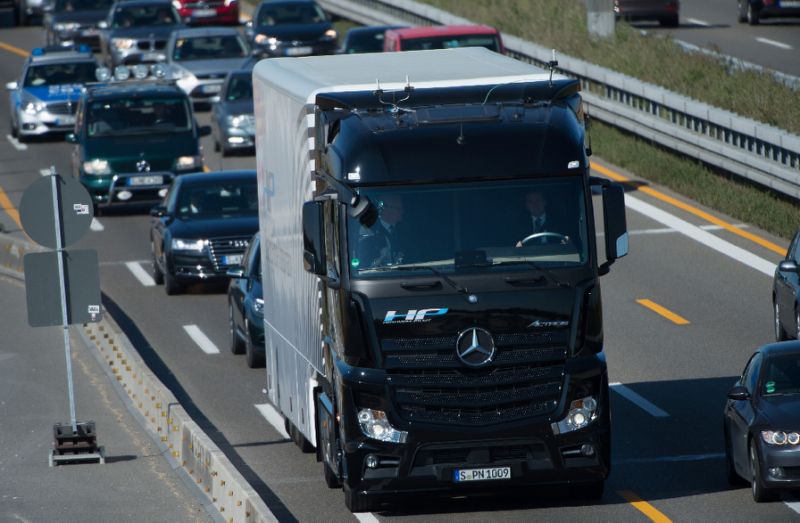 ---
RAWALPINDI: The National Logistics Cell (NLC) has signed a memorandum of understanding (MoU) with Daimler AG -the German automotive corporation that owns Mercedes-Benz - for the local assembly and production of Mercedes‐Benz trucks in Pakistan.

The MoU was signed on behalf of NLC by Major General Mushtaq Faisal, the director general, and Zia Ahmed, chief executive officer of Pak NLC Motors. On behalf of Mercedes‐Benz Special Trucks, Klaus Fischinger, head of the executive committee, and Dr Ralf Forcher, head of sales, signed the MoU.

Also present at the signing ceremony were Naseem Shaikh, director and general manager at Shahnawaz Limited, and Ahmed Naeem of Shahnawaz Limited, the authorised distributor of Daimler AG in Pakistan.

Budget 2018-19: As non-filers barred from purchasing new vehicles, auto sector set for a surprise

In a statement issued on Saturday, NLC said the local assembly of Mercedes‐Benz trucks will mark a major shift in the logistics and transportation industry's preference towards European manufacturers who offer technologically advanced products that combine superior performance, environment friendliness, reliability and road safety.

Major General Faisal termed the MoU a historic moment for Pakistan's commercial vehicle industry. "The local assembly of Mercedes‐Benz trucks would prove as a strategic opportunity that would leverage the modernisation of Pakistan's logistics industry," said the official.

"Because of the incentives given in the Auto Development Policy 2016‐21, locally-assembled Mercedes‐Benz trucks would be offered at competitive prices."

Auto companies say efforts being made to expedite vehicle delivery

He added the development will ensure healthy competition in the trucking industry and meet the logistics requirements of the China-Pakistan Economic Corridor (CPEC).

Dr Ralf Forcher, head of sales at Mercedes‐Benz Special Trucks, said Pakistan's infrastructure and construction sectors have registered significant growth in recent years, giving a boost to the logistics industry that, in turn, means increased demand for commercial vehicles.

It is pertinent to mention that strong growth in Pakistan's GDP has contributed towards a significant boost in greater demand for commercial vehicles. In addition, CPEC, which includes a wider transportation network that link seaports in Gwadar and Karachi with northern Pakistan, as well as points further north in China and Central Asia, has given a boost to the auto sector in the country.
COMMENTS
Comments are moderated and generally will be posted if they are on-topic and not abusive.
For more information, please see our Comments FAQ