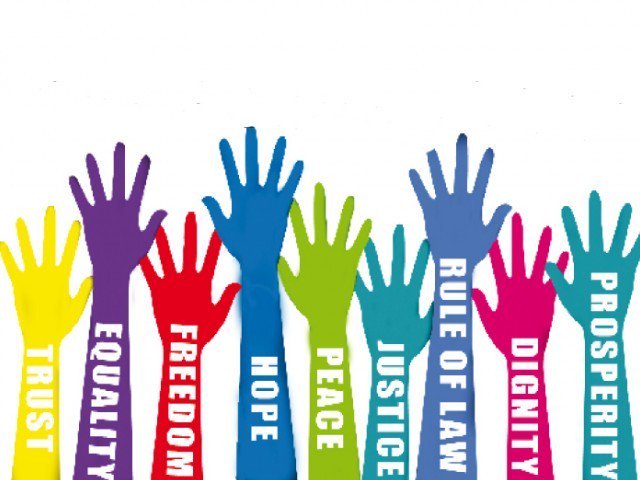 ---
ISLAMABAD: Discriminatory laws should be re-examined to prevent minorities from becoming targets while religious minorities should be respected by fellow citizens including law enforcement agencies as the 2014 Supreme Court judgment on the rights of minorities is implemented.

For this purpose, a National Commission on Minorities should be established immediately.

These were some of the recommendations presented by lawmakers at the closing plenary of three-day international Citizens Roundtable titled 'Charting Pathways for Pluralism' organized by Sustainable Development Policy Institute (SDPI) here on Friday

Parliamentary Secretary for Climate Change Ministry Romina Khursheed Alam said that if rule of law is ensured, it will promote pluralism in the country in the real sense.

She said that training for faith and feminism, gender discrimination and minority rights, should be organised where Imams and religious leaders should be trained to play their due part.

Ihsan Ghani, the national coordinator of the National Counter Terrorism Authority (NACTA) said that it was imperatives that past mistakes should be acknowledged to reduce intolerance and promote pluralism while objectives must be outlined in accordance with the vision and mission of Quaid-i-Azam Muhammad Ali Jinnah.

He said Pakistan was a pluralistic society, but unfortunately, pluralism has been ignored and we drifted away from it soon after the birth of the country.

Ghani went on to argue that pluralism is the anti-thesis of extremism and intolerance and it rejects the ideas that a state represents any particular religion, race or belief.

Minorities part of Pakistani society

He said that citizen engagement at the local level is of great importance.

"Creating an enabling environment for promoting the culture of peace and tolerance is the need of the hour," he added.

Earlier, European Union Ambassador Jean-Francois Cautain said that we should embrace differences, too.

He added that fighting for freedom of religion and beliefs means fighting for dignity, rights, peace and tolerance.

"We are all facing difficulties in achieving equal rights for all citizens, as it was not an easy task to reconcile and solicit different views at one table," he added. But these taboos were being broken by bringing different thought leaders around a table, Cautain stated, noting that the EU believes that Pakistan has the capability to successfully combat intolerance and extremism.

Solid human rights architecture must for a pluralistic society

Later, EU Special Envoy on Freedom of Religion Jan Figel said that it was possible to live in peace and harmony while enjoying diversity.

For this, he said, one needs to be committed to winning this challenge. Ignorance, fear and indifference are allies of evil and majority of us are ignorant, indifferent and fear of talking for own rights. He said to achieve peace, harmony and pluralism, we all need to break this chain of fear and come out of ignorance.

Council of Islamic Ideology (CII) Chairman Dr Qibla Ayaz said that it was unfortunate that the society was highly polarized with a rising trend of intolerance in the society.

Inclusive policies: New social contract needed to make Pakistan pluralistic

SDPI Executive Director Dr Abid Qayuim Suleri said that this was a crucial time for the country when all political parties were gearing up for next general elections. Interfaith harmony and pluralism must be included in the manifestos of different parties, he said. As the country strives for peaceful coexistence, he said that policies should carry out the inclusive values which may foster a pluralistic society.

Published in The Express Tribune, May 5th, 2018.