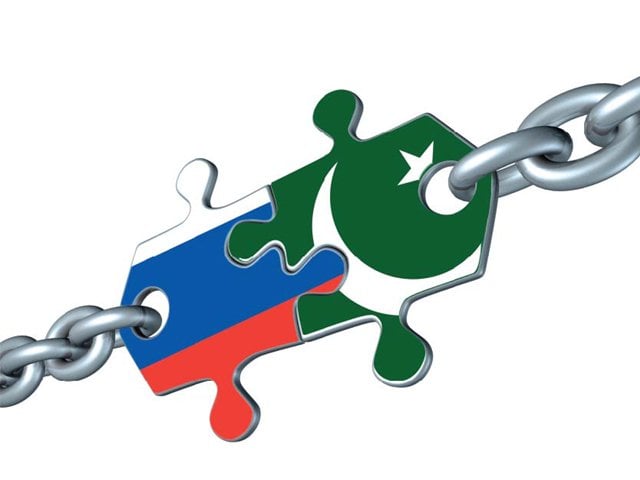 ---
ISLAMABAD: Pakistan has offered Russia a 'multidimensional strategic partnership' as the two former cold-war rivals celebrate the 70th anniversary of their diplomatic relations.

"We believe that long term multidimensional strategic partnership between the two countries will be mutually beneficial for the people of Pakistan and the Russian Federation and would contribute towards regional peace and stability," said a statement issued by the Foreign Office on Tuesday.

In the backdrop of multiple recent developments that have seen Pakistan-Russia relations touch historic new heights, the event is being celebrated in both countries with great fervour and zeal, the statement added.

Relations between Pakistan and Russia have already seen an unprecedented improvement in recent years in the fast changing regional scenario that compelled both the countries to align themselves to protect their mutual interests.

But this is the first time that Pakistan has expressed its desire to take the relationship to the next level. The move is seen as significant and a clear shift in Pakistan's approach seeking greater cooperation with Russia. The shift is apparently necessitated by the United States' hardline approach towards Pakistan.

As US influence wanes, Russia embraces Pakistan with energy deals, military partnership

Russia is also warming up to Pakistan given the fact that its long term ally India is now establishing strategic partnership with the US. "Pakistan-Russia friendship is fast evolving into a mature partnership," said Foreign Office spokesperson Dr Muhammad Faisal.

"Relations between the two countries are today characterised by mutual trust, commonality of interests, and convergence of views on important regional and global issues.

"Both countries have similar stakes in durable peace and stability in their common neighbourhood, and harbour shared aspirations for regional development and prosperity," the spokesperson added.

He said the upward trajectory is being maintained through sustained high level interaction through strong institutional mechanisms and cementing cooperation in such diverse fields as trade and commerce, banking and finance, agriculture and industry, defence and security, education and technology, and energy and infrastructure development.

"The two countries have also collaborated closely at international forums including the UN. Russia has been a strong supporter of Pakistan's membership of SCO [Shanghai Cooperation Organisation] which affords another useful platform for close cooperation on matters of common concern," Faisal added.

Pakistan, Russia 'keen to expand military ties'

He said Pakistan views Russia as an important global power, a significant development partner, and a salient contributor to regional stability.

Pakistan, Russia and China appear to have developed consensus on some of the regional issues including Afghanistan. All three countries, unlike the Trump administration's policy, want a negotiated settlement of the lingering conflict in Afghanistan.
COMMENTS (3)
Comments are moderated and generally will be posted if they are on-topic and not abusive.
For more information, please see our Comments FAQ