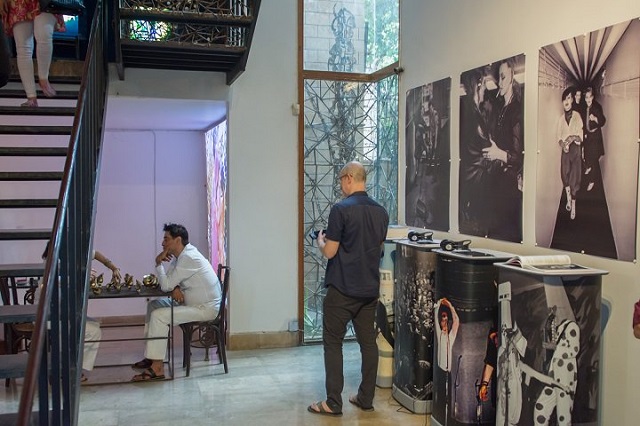 ---
KARACHI: Photographs are silent, yet they scream human truths. They have the ability to bypass language in a way that can connect a story with people all around the world. They offer visual narratives that sometimes give a voice to marginalised communities, which are silenced, or question and investigate standards in society.

The Goethe-Institut Pakistan, in collaboration with the Amin Gulgee Gallery, presented 'Outsiders,' a curated event of multimedia series showcasing the intense outbreak of cultural activity as part of the 'Brilliant Dilletantes' subculture in the 1980s in Berlin and across Germany. The exhibition presented the energy of the subversive punk movement through photographs.

The Pakistani show within the 'Outsiders' exhibition investigated counter-cultural expressions in the country from the 1970s to present day, as witnessed in diverse creations and repetitions. These were then presented through the lens of social and political activism in art, the subversion of gender roles as explored through various mediums.




Goethe-Institut Pakistan Director Stefan Winkler told The Express Tribune, "For me, it was clear from the beginning that bringing this very specific exhibition to Pakistan would need a counterpart, a response, a connection to the Pakistani scene. So, I was very happy when Gulgee agreed to form a curatorial team, including Zarmeene Shah and Zeerak Ahmed, to explore sub or counter cultures in the Pakistani context and to connect the questions raised by both exhibitions."

Lack of cultural policy heavy on Pakistani showbiz

The programme was anchored by the international touring exhibition Geniale Dilletanten - Brilliant Dilletantes - which is a term used to announce a concert held in Berlin's Tempodrom in 1981. The work displayed images of seven punk bands that emerged in Germany in the early 1980s.




During the era of upheaval in 1980s, Germans in all the arts explored new innovative forms and experimented with new ways of expression. Alongside the selection of bands, a collection of audio samples, photos, posters, texts, videos and objects provided an overview of the subculture at the time.

Karachiites get a glimpse of Japanese culture

The exhibition aimed to prompt a series of questions that investigated the idea of counter-cultures in the Pakistani context.
Art in Pakistan during the 1980s emerged more from an economic, political, social and religious context rather than a particular movement that can be defined as easily as punk.




The dictatorial government of General Ziaul Haq that overthrew the democratic government of Zulifikar Ali Bhutto initiated an important period in Pakistani art. Zia's policy of censorship regarding visual arts formed the phase of Pakistan's artistic discourse. The 11 years of Zia's regime from 1977 to 1988 is seen as one of the darkest periods of Pakistan's artistic history. Every kind of art that referred to any form of political or social issue was censored.

Sculptor Gulgee, who has for more than two decades exhibited his work extensively both at home and abroad, said, "The situation is much more complicated now because how do you define Pakistani culture?"

Under attack: Promoting culture can help inculcate tolerance in society

"Before you define subculture and counter culture, you have to define culture itself and that is very problematic when you get to Pakistan," he continued.




"Ever since the Zia-Bhutto era, Pakistan has been navigating between these two polarising figures and we have been dealing with this pendulum swing either way every few years. You really don't know where you stand," he believed.

Gulgee said the art movement in Pakistan came about after years of dictatorship when we 'exploded' from having Islamisation down our throat.

He compared what was happening in Germany in the 1980s to the early fashion shows starting in Karachi in the 1990s because it reminded him of "the crazy, exuberant scene where everyone was doing their own thing" from fashion, hair, music videos, photography to modelling.