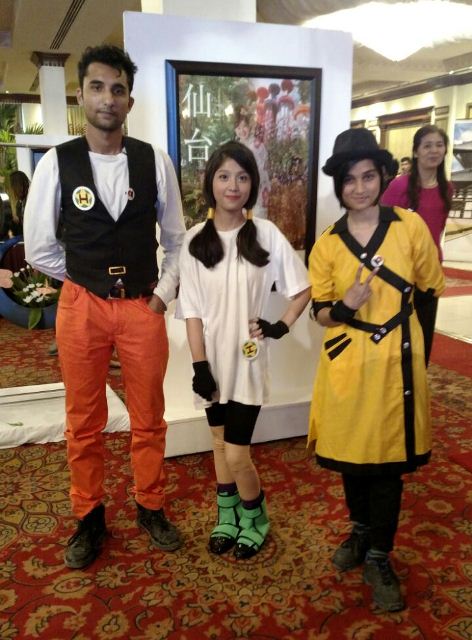 ---
KARACHI: Vibrant colours, music, exotic cuisine and people dressed up in costumes portrayed the culture of Japan at the Japan Fest 2017 held on Thursday at the Pearl Continental Hotel in Karachi.

The event was organised by the Consulate-General of Japan to celebrate 65 years of diplomatic relations between Pakistan and Japan.

Consul-general looks to boost trade between Pakistan, South Korea

"Through events like these we want to introduce Japanese culture to the people of Pakistan. Cultural exchange can help improve relations between the two countries," Consul-General of Japan Toshikazu Isomura told The Express Tribune.


Many participants dressed up as their favourite anime characters. PHOTO: EXPRESS

To introduce the culture of Japan, various activities were organised which included a cosplay contest, pop culture show, band session, different exhibitions such as ikebana (Japanese art of floral arrangement), origami (Japanese art of folding paper into decorative shapes and figures) and bonsai (the art of growing ornamental, artificially dwarfed varieties of trees).

However, with Japanese women serving traditional cuisine, the food stall attracted the most attention. Fish cakes (takoyaki), sushi, noodles and other traditional Japanese dishes were served at the stall organised by the Japanese women's association.


The food stall was very popular. PHOTO: EXPRESS

"We are trying to introduce Japanese food to Pakistan," Arisha Nazoki, one of the members of the women's association said. "Our husbands work here [in Pakistan] as diplomats or businessmen," she explained.

The other highlight of the event was the cosplay contest, organised in collaboration with Metal Sienen and Shonen Infinity, where people dressed as their favourite animated characters, creating a lively atmosphere.

Govt officials, diplomats celebrate birthday of Emperor of Japan

For many, it was their first opportunity to explore this part of Japanese culture and be a part of it.

"The event is amazing. I am attending such an event for the first time in Pakistan," said Rayem Tajwer, a participant who was dressed as Sakura Haruno, a fictional Japanese character from the Naruto anime and manga series.


Most participants made their costumes using items they had at home. PHOTO: EXPRESS

Most of the participants of the cosplay contest said that they assembled their costumes with simple accessories available at home.

Anza Minhaj ,dressed as street fighter Chun-Li, said that she spent only Rs500 on her costume.

Mohammad bin Tahir Mir, dressed as Wirt from an American animated television series 'Over the Garden Wall', said that he felt good being a part of a festival where he could dress as his favourite character without feeling out of place.

Karachiites get a lesson in Kendo at the Japanese consulate

"It is really good to see so many like-minded people in one place.  We got a taste of Japan through this event", said Spoken Stage Founder Mariam Riaz Paracha, who was also one of the judges of the cosplay contest. This was also the first event of its kind that Paracha was attending in Pakistan.


The event gave people a chance to experience Japanese culture. PHOTO: EXPRESS

Besides this, a performance by New York-based Japanese artist Kaneko Sumie captivated the audience. The music played by the artist was an interesting fusion of Japanese and Pakistani compositions.

"We organise such cultural events every year to provide an opportunity to the people of Pakistan to explore the culture of Japan," said Isomura.


The event was organised by the Japanese Consulate in Karachi. PHOTO: EXPRESS

Responding to a question, he said that the next planned cultural activity will be a 'Haiku Mushaira'. The mushaira will be a presentation of Pakistani music in Japanese style and will be held today (Friday).
COMMENTS (1)
Comments are moderated and generally will be posted if they are on-topic and not abusive.
For more information, please see our Comments FAQ