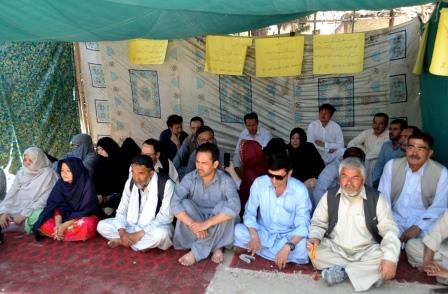 ---
QUETTA: Balochistan Chief Minister Abdul Quddus Bizenjo has urged the people of the province to show unity, saying terrorists are trying to stoke sectarian violence in the provincial capital by killing innocent people.

"The law enforcement agencies are carrying out their duties with utmost valour as they have busted terrorist networks and killed many terrorists, including suicide bombers," said the chief minister while talking to the protesting Hazara community members outside the Balochistan Assembly on Monday.

CM Bizenjo was flanked by Minister for Home and Tribal Affairs Sarfraz Bugti.

Hazaras protest against 'targeted killings' of community members

The protest by the Hazara community members at three separate locations of the city entered its third day on Monday.

They are demanding protection from law enforcement agencies and army chief to visit Quetta in order to put an end to the killing of Hazara men.

Bizenjo said, "We are standing with the Hazara community. The provincial government will not let anyone spread sectarian violence in Balochistan."
The home minister said that measures were being taken to purge the network of terrorists from the province with the cooperation of law enforcement agencies.

Terrorist involved in Hazara community killings shot dead in Mastung

Bugti said, "Law enforcement agencies, including Frontier Corps, Levies force and police, had improved the law and order situation after hectic efforts."

Bugti said some neighbouring countries were involved in terrorist activities in Balochistan to destabilise peace of the area.

Social activist Jalila Haider, who is on a hunger strike for the last two days against surge in Hazara killings, has called upon the army chief to visit Quetta and play his due role in apprehending the terrorists targeting the Hazara community.
Showing sympathy, Balochistan National Party-Mengal (BNP-M) also organised a sit-in, headed by former MNA Syed Nasir Ali Shah, outside the Quetta Press Club.
Shah said, "All parties, religious and political, must launch a long march or hold a grand jirga for the sake of peace and tranquillity in Quetta."

Two Hazara men shot dead in Quetta attack
Minister for Law Syed Agha Raza along with his supporters staged a sit-in on Zarghoon Road near the Balochistan Assembly.
He said, "I am compelled to protest against my own government because my people trusted me and elected me as their representative; therefore, the responsibility of their protection lies on my shoulders."
He said that an international proxy war was being waged in Balochistan by killing Hazara people. "We seek full implementation of the National Action Plan in Balochistan," Raza demanded.
Raza called off his sit-in on the assurance of the Balochistan CM and the home minister that the provincial government would do its utmost in eradicating sectarian violence.
COMMENTS
Comments are moderated and generally will be posted if they are on-topic and not abusive.
For more information, please see our Comments FAQ