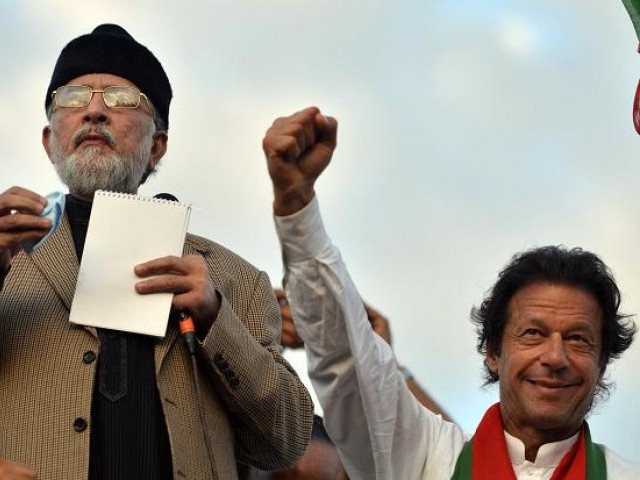 ---
The Lahore High Court (LHC) has ordered Pakistan Tehreek-e-Insaf (PTI) chief Imran Khan and Pakistan Awami Tehreek (PAT) leader Tahirul Qadri to submit their replies in a contempt of court petition filed against them in connection with the 2014 sit-in in Islamabad.

A three-member bench of the high court, headed by Justice Anwarul Haq, was hearing the contempt of court petition on Monday against the prolonged anti-government sit-in outside the Parliament House in the federal capital by the two parties, Express News reported.

During the hearing, petitioner A K Dogar informed the court that despite being ordered by the court to not stage protest, Imran and Qadri held the weeks-long sit-in to topple the Pakistan Muslim League-Nawaz (PML-N) government.

The two leaders had committed contempt of court by violating its earlier order regarding sit-ins in Islamabad, said the petitioner.

ATC dismisses Imran Khan's application seeking transfer of cases to sessions court

Issuing notices, the high court ordered the PTI and PAT chiefs to submit their response in the next hearing, scheduled for May 25.

Imran, Qadri and several others were booked after the protesters beat up SSP Asmatullah Jenujo, attacked Parliament and ransacked the PTV headquarters. The two leaders were also booked for misuse of loudspeakers during the sit-ins.

On August 31, 2014, the PTI and PAT workers marched on the Parliament House and the PM House while clashing with police along the way. At least three protesters died and hundreds of protesters and policemen were injured.

The next morning, hundreds of protesters ransacked the PTV offices on the Constitution Avenue. The sit-ins, however, ended in the wake of the Peshawar school massacre.
COMMENTS
Comments are moderated and generally will be posted if they are on-topic and not abusive.
For more information, please see our Comments FAQ