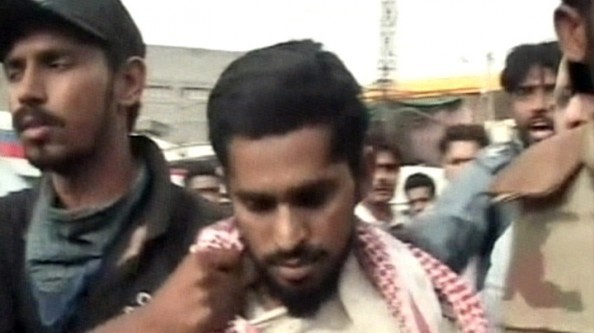 ---
Interior Minister Rehman Malik hinted at the involvement of the Tehrik-i-Taliban Pakistan and Al Qaeda in the attacks that took place in the Model Town and Garhi Shahu areas of Lahore on Friday.

At least 88 people were killed while over 200 were injured in two separate attacks, involving blasts and gunfire, in Ahmedi worship places in both the areas of the city during Friday prayers.

View a slideshow of the day's events here.

Garhi Shahu

DCO Lahore Sajjad Bhutta said that 33 people were reportedly killed while 70 others were injured in the attack on the Ahmadi worship place in Garhi Shahu.

Ten people who were injured were shifted to Mayo hospital.

Eye witnesses said that there were about six to seven terrorists armed with automatic weapons and suicide jackets who attacked the worship places when people were busy in their prayers.

Over 1,000 worshipers were present in the building when the attacks took place.

They took people hostage and started firing at random.

Model Town

Twently-three people were killed and at least 21 were injured in an attack on an Ahmedi worship place in Model Town area of the city.

Eyewitnesses and police sources said that there were four attackers involved in the model town attack of which two entered the building and attacked people with hand grenades, while a bomb planted on a motorcycle went off outside the building.

During the rescue operation, police killed one terrorist and another was arrested in injured condition, while eyewitnesses said two terrorists managed to escape.

According to witnesses one of the attackers was a clean-shaved man in western attire.

The bodies and injured were shifted to Jinnah hospital.

Among the injured were a twelve year old boy and three women. Police said two suicide jackets and eight hand grenades were also recovered from the scene.

Malik condemns, Taseer blames

Both Interior Minister Rehman Malik and Governor Punjab Salman Taseer tweeted regarding the attacks:

SenRehmanMalik Lahore, all Pak is with u. Terrorists, these hired assassins, will be dealt with an iron hand. No mercy for these enemies of humanity.

SalmaanTaseer Punjab govt has failed 2 prosecute and convict killers from hate organizations GHQ Hamza camp Lt Gen Mushtaq Baig.In jail with VIP status

SalmaanTaseer shameful attack on ahmedis is direct result of PML N linkages with Taliban Only answer is zero tolerance

SalmaanTaseer Sip sahaba Jangvi Taliban r al part of same brotherhood and coalition partners of PML N Law minister openly supports them What can u expect?

SalmaanTaseer Let me be clear Law and Order is a provincial subject Directly under CM Punjab it is NOT under my control I am being bombarded wth ???