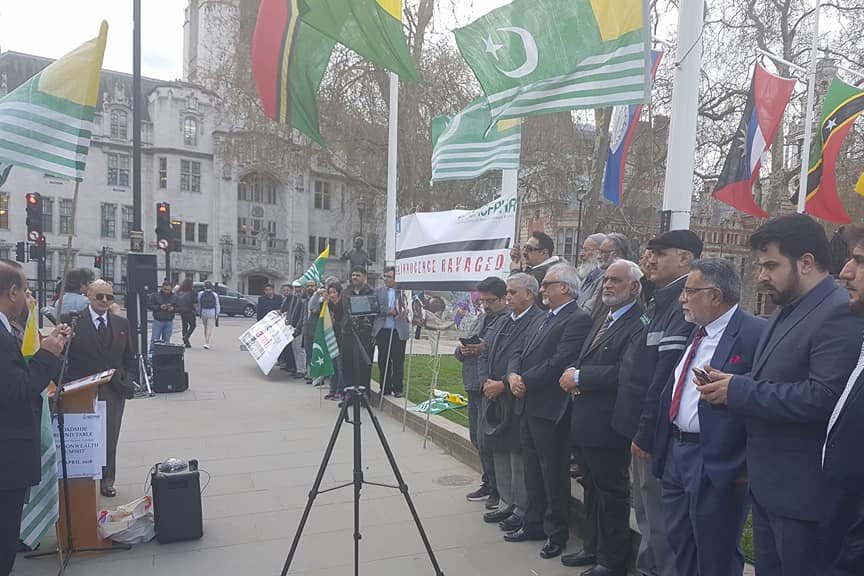 ---
Kashmiris settled in London staged a demonstration outside at the Parliament Square on Wednesday to protest against the Indian atrocities in occupied Kashmir.

The protest comes amidst Indian Prime Minister Narendar Modi's arrival in Britain's capital for the Commonwealth Heads of Government Meeting (CHOGM) 2018.

They condemned state-sponsored terrorism in Indian Occupied Kashmir (IOK) and also demanded justice for an eight-year-old, Asifa Bano, who was rape and murdered.

Riz Ahmed slams those supporting Asifa's rapists

People from different age brackets participated in street activism, by sloganeering and chanting demands of Kashmir's freedom from Indian occupation.

The demonstration was led by diasporic leaders. Local Kashmiri leaders Syed Ali Gilani, Mirwaiz Umar Farooq, Muhammad Yasin Malik, Aasiya Andrabi and Zamruda Habib also joined the drive by video conferencing from Srinagar.

The protesters expressed outrage over the rape and murder of Asifa Bano, who was taken to a temple and raped multiple times before being murdered brutally. Demonstrators rallied that her culprits be brought to justice.

Indian troops kill at least 20 youths during search operations in occupied Kashmir

A roadside roundtable was also organised to highlight Indian brutalities in IOK and different aspects of the Kashmir dispute were discussed.

Meanwhile, Indian Prime Minister Narendra Modi also listened to the speeches of the Hurriyat leaders inside the British Parliament.