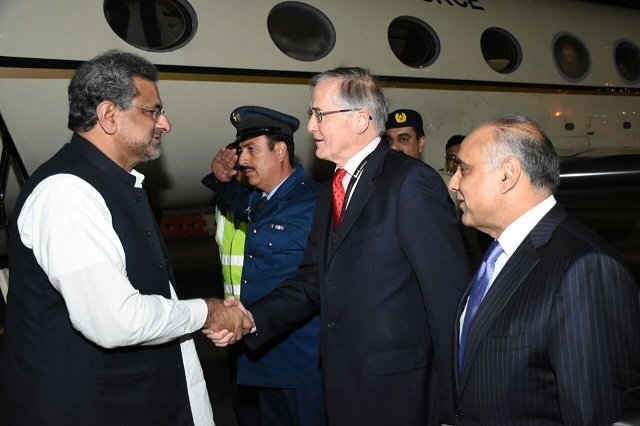 ---
ISLAMABAD: Prime Minister Shahid Khaqan Abbasi reached London to attend the Commonwealth Heads of Government Meeting (CHOGM) 2018.

Upon arrival at the airport, the PM was received by the Special Representative of the British Foreign Minister, Pakistan High Commissioner to the UK Syed Ibne Abbas, together with officials of the high commission.

The main theme of the meeting is 'Towards A Common Future' and the two-day summit will end on April 20.

PM Abbasi says Afghan visit to prove a milestone

During his stay in London, the prime minister will attend the reception being hosted by Queen Elizabeth II. He will also call on the prince of Wales and meet British Prime Minister Theresa May amongst other Commonwealth leaders.

Participation in CHOGM 2018 will allow the premier to highlight the progress made by Pakistan including its transition to a modern and dynamic emerging market, which is an attractive destination for business, investment and trade.

The prime minister will also actively participate in executive and retreat sessions as well as a number of events being held on the sidelines.

Pakistan is one of the founding members of the organisation. The current membership of the Commonwealth consists of 53 member states reflecting diversity of all continents of the world.

We are turning TAPI into reality: PM Abbasi

Commonwealth provides a market of over 2.2 billion people, spread across all six continents, covering nearly a quarter of the world's land mass and a combined of $9.8 trillion.