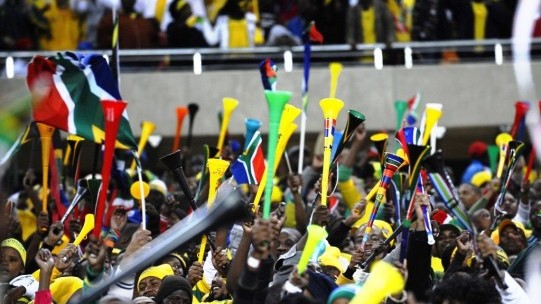 ---
Football fans were told that they will not be allowed to greet their team when they arrive in South Africa for next month's World Cup.

South African authorities are taking no chances with security, and tight security means that upon landing all squads will be whisked away without even entering airport terminals to meet fans.

They are also making sure that adequate security measures are in place for the tournament. "We have gone through a number of simulations with FIFA, police, VIP protection and task force of police,'' says Tebogo Megoe of Johannesburg's Tambo Airport.

He said airport drop-off and pick-up zones would be closed to the public, denying fans a glimpse of their football stars.

Early this year, al Qaeda had warned it would target both teams and fans during the tournament and claimed it hoped hundreds of spectators would be killed in explosion during England's game against USA in Rustenburg on June 12.

Fewer African fans for World Cup

FIFA is disappointed by World Cup ticket sales to African fans outside of South Africa, with only 40,000 sold in the rest of the continent ahead of the June 11 opener, officials said on Thursday. "The numbers of sales from African countries is really disappointing," FIFA general secretary Jerome Valke told journalists.

Six African countries are competing in the 2010 FIFA World Cup, including host South Africa. "There are a number of factors contributing to low sales, but that does not mean that the Africans are not excited about the World Cup," said Valke. Valke said high travel costs was one of the issues which may have forced Africans to stay away from the continent's first World Cup.

"Flying inside the continent is very expensive. In some cases you have to go via Europe to get to another African destination," added Valke. The world's most-watched sporting event has been marketed as an African World Cup, aimed at highlighting the contribution of Africa to the game of football.

FIFA also said African countries won't have official fan parks similar to the ones planned for major European cities. "We were unable to reach agreements with African cities regarding the fan fests. It is an expensive exercise as well," said Valke.

Ticket sales among European fans were also lower than expected, which Valcke blamed on the effects of the global recession. So far 96 percent of the 2.88 million tickets had been sold. About 160,523 more seats will go on sale on Friday. "The target is to reach 97 or 98 percent, which would correspond with the figures from the past FIFA World Cups and this would make us happy," said Valke.