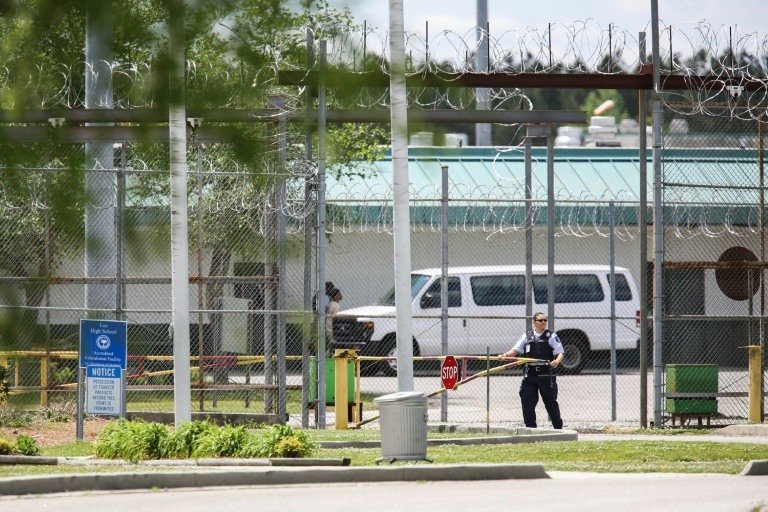 ---
BISHOPVILLE: Seven inmates were killed and 17 injured in clashes between rival gangs over "contraband and territory" at a maximum security prison in South Carolina, in the deadliest outbreak of prison violence in the United States in a quarter century.

South Carolina Governor Henry McMaster described the overnight bloodshed at Lee Correctional Institution in Bishopville, South Carolina, as "unfortunate" but said "these are dangerous people."

"We cannot expect them to give up their violent ways just because they're in prison," McMaster told a press conference on Monday.

Bryan Stirling, head of the South Carolina Department of Corrections (SCDC), said fighting broke out shortly after 7:00 pm on Sunday in a prison dormitory and spread to two others before it was put down nearly eight hours later.

Stirling said a preliminary investigation had found that it was "gangs fighting over territory."

"This was all about territory," he said. "This was about contraband. This was about cell phones.

"These folks are fighting about real money and real territory while they're incarcerated."

At least seven dead, 17 injured in South Carolina prison riot

Stirling and the governor both appealed to the Federal Communications Commission (FCC) to allow them to block cell phone signals to prisons to prevent inmates from communicating with people on the outside world.

"Jamming those cell phone signals will do a lot," McMaster said. "It's not just a South Carolina problem. It's a national problem."

Stirling said 44 guards were on duty at the prison which houses some 1,600 inmates when the violence erupted.

He said a response team entered the first dormitory at 11:30 pm, the second one at 12:30 am and the third one at 2:00 am.

"There was no resistance when we went in to take the dorms back," Stirling said.

Prison officials said order was restored by 3:00 am and inmates locked down in their cells.

They said the clashes left seven prisoners dead and 17 "requiring medical attention."

All prison guards and law enforcement authorities who responded were "safe and accounted for."

Lee Correctional Institution is a "Level III" maximum security facility built in 1993 to house violent offenders and prisoners with behavioural problems.

Deadly prison riots have been relatively rare in the United States, despite some notable exceptions.

South Carolina's prisons are notoriously violent, however, and suffer from chronic understaffing.

According to The State newspaper, the number of inmates killed in South Carolina's prisons more than doubled in 2017 from the previous year.

It said 12 inmates were killed by other prisoners last year, up from five in 2016.

Teen kills father, opens fire on South Carolina schoolyard

The deaths included four inmates who were strangled to death by two fellow prisoners in April 2017 at Kirkland Correctional Institution, another maximum security prison.

Representative Todd Rutherford, the leader of the Democratic minority in the state House of Representatives, condemned the violence.

"A mass casualty incident inside a correctional facility is simply unacceptable," Rutherford tweeted. "Safety —for inmates, SCDC employees, and the public —must be a priority.

"Rioting like this is a symptom our criminal justice system is broken and needs reform now," he said.

The United States has the highest rate of incarceration in the world with around 450 prisoners per 100,000 residents, according to Bureau of Justice Statistics (BJS).

There were 1.5 million inmates in state and federal prisons in the United States at the end of 2016, according to the BJS.

The overnight violence at Lee Correctional Institution was one of the deadliest at a US prison in decades.

In 1993, nine inmates and a corrections officer were killed at the Southern Ohio Correctional Facility, a maximum security prison in Lucasville, Ohio.

A two-day riot and hostage-taking at the New Mexico State Prison in 1980 left 33 inmates dead and 200 injured, one of the worst in modern US history.

Probably the most famous was the 1971 rebellion at New York's Attica prison.

After a four day standoff with inmates holding 42 hostages, New York state police moved in to retake the prison on orders of governor Nelson Rockefeller.

By the time it was over 43 people were dead, including 10 guards and prison employees and 33 inmates.