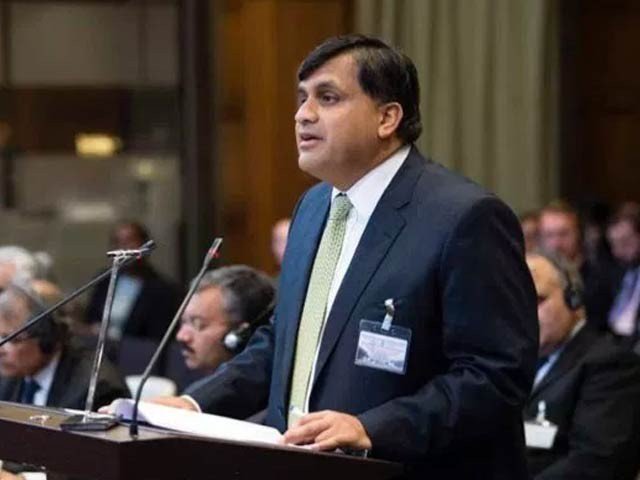 ---
The Ministry of Foreign Affairs Sunday quashed Indian claims that its envoy was stopped from meeting Sikh pilgrims terming it "an attempt to mutate the truth."

While responding to a question regarding the statement by the Indian Ministry of External Affairs alleging that the High Commissioner of India was prevented from meeting the visiting Sikh pilgrims, Foreign Office spokesperson Mohammad Faisal refuted the allegations as baseless.

"It is deeply regrettable that facts in the matter had been completely distorted and misrepresented," he added.

Indian pilgrims arrive in Pakistan for religious festival

The Indian high commissioner cancelled his visit owing to Sikh protests against New Delhi over the screening of a controversial movie in the country, said the Foreign Office.


Indian allegations regarding prevention of meeting of the Indian High Commissioner with Sikh yatris are reprehensible attempts to try to mutate the truth. Indian HC agreed to cancel the visit due to Sikh protests against India for screening of controversial movie in India (1/3)

— Dr Mohammad Faisal (@DrMFaisal) April 15, 2018
?

The matter had been brought up with Islamabad and the Pakistan High Commission in New Delhi and a ''protest'' was registered.


There was no scheduled meeting of the Indian consular team on 14 April. They instead visited the Gurdwara on 15 April as planned - exposing the indian falsities. Whether the Sikh pilgrims wish to meet them or not is upto them(2/3)

— Dr Mohammad Faisal (@DrMFaisal) April 15, 2018
?


Indian allegations of violation of the Protocol on visit to religious shrines are hypocritical as it is India that cancelled the visit of Pakistani zaireen twice & scuttled 3 visits of Indian pilgrims since June 2017. (3/3)

— Dr Mohammad Faisal (@DrMFaisal) April 15, 2018
?

Consequently, the factual position was communicated to the Indian side, both in Islamabad and New Delhi.

Baisakhi festival: Shehbaz felicitates Sikh community

"We deeply regret this Indian attempt to generate controversy around the visits of Sikh pilgrims and to vitiate the environment of bilateral relations," the statement reads.

"For decades, Pakistan has made excellent arrangements to facilitate the visits of Sikh Yatrees from across the world, including India, and extended protocol, reception, security, medical and other facilities. This is consistent with our religious ethos and traditions of hospitality."