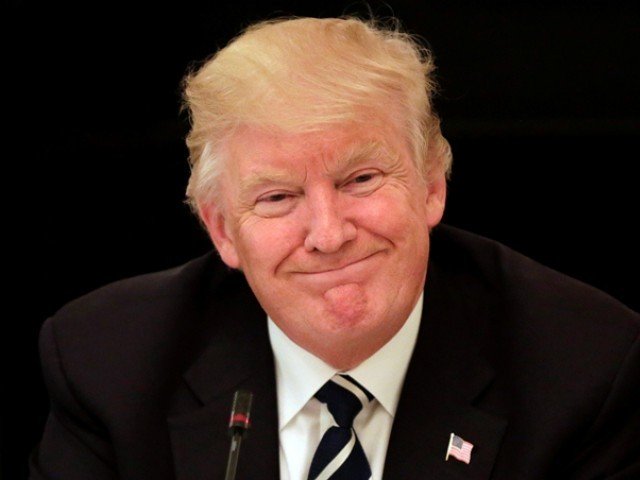 ---
WASHINGTON DC: President Donald Trump on Saturday praised the pre-dawn strikes against Syria's regime carried out jointly by the US, Britain and France, saying they "could not have had a better result."

Western officials said a barrage of cruise and air-to-land missiles hit what they said were sites linked to chemical weapons development, in retaliation after a suspected toxic gas attack a week ago on the rebel-held town of Douma, in the Damascus suburbs.

Defiant Trump warns missiles 'will be coming' over Syria attack

"A perfectly executed strike last night. Thank you to France and the United Kingdom for their wisdom and the power of their fine Military," Trump tweeted.

"Could not have had a better result. Mission Accomplished!"

https://twitter.com/realDonaldTrump/status/985130802668294144

Branding last week's alleged chemical attack the "crimes of a monster," Trump announced the military action against President Bashar al-Assad's regime in a White House address late Friday, defying fierce warnings from Damascus ally Russia.




US, world powers warned 'fuelling Syrian war may lead to WWIII'

US Defence Secretary Jim Mattis called the strikes a "one-time shot" with no additional military action planned for now.




In 2003, then US president George W Bush announced the end of major combat operations in Iraq aboard a US aircraft carrier returning from the Gulf -- with a banner that read "Mission Accomplished" behind him -- a declaration that proved premature.




The German Reaction 

German Chancellor Angela Merkel said Saturday the air strikes against the Syrian regime were "necessary and appropriate" after the suspected chemical weapons attacks that killed dozens in Douma.


EXCLUSIVE: View of science center in #Syria targeted by US-led strikes https://t.co/zOfIrRe0vX #SyriaStrikes pic.twitter.com/BNpfdHAgyc

— RT (@RT_com) April 14, 2018


"We support the fact that our US, British and French allies ... assumed their responsibilities. The military intervention was necessary and appropriate," Merkel said in a statement.




"Everything leads us to believe that (Assad) bears responsibility" for the Douma attack, Merkel said.

The chancellor on Thursday had ruled out Germany joining any military action against Syria.

Who's who in the Syria conflict?




On Saturday she said it appeared likely that the Syrian regime "had used chemical weapons against its own people on several occasions in the past".




Merkel added: "A century after the end of World War I... we must fight against the erosion of the (international) convention on chemical weapons".

"Germany will undertake, in a determined way, diplomatic efforts to support this," Merkel said.
COMMENTS
Comments are moderated and generally will be posted if they are on-topic and not abusive.
For more information, please see our Comments FAQ