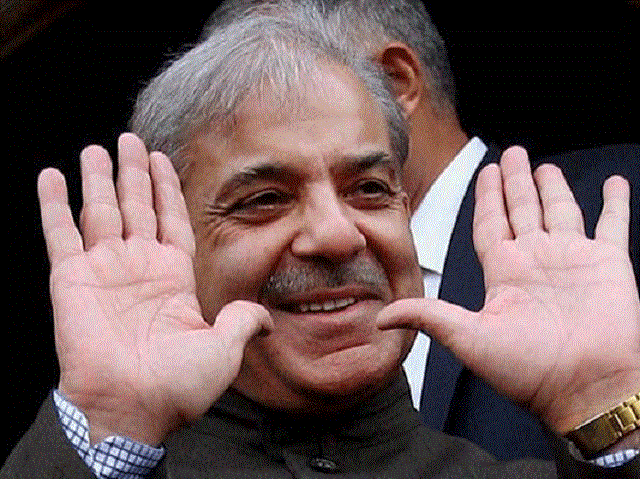 ---
KARACHI: Pakistan Muslim League-Nawaz (PML-N) President Shehbaz Sharif on Saturday vowed to turn Karachi once again into the city of lights 'free of garbage'.

"The situation of Sindh and Karachi has deteriorated due to corruption. If money had not been looted, the situation of the city and the province would have been different," said Shehbaz during his daylong visit to Karachi.

The Punjab chief minister called it his dream to eradicate corruption from Sindh and Karachi and bring development. "It is my dream to run a metro bus in Karachi," he said, adding that the garbage in Karachi had ruined it.

This was Shehbaz's first visit to Karachi after being elected as president of the ruling PML-N in the wake of the disqualification of Nawaz Sharif as prime minister and party head, by the Supreme Court.

During the trip, Shehbaz met the party's provincial leadership, local body representatives, members of a minority group, women and youth leaders. He also paid a visit to mausoleum of Quaid-e-Azam Muhammed Ali Jinnah.

Referring to the apex court's verdict on Friday that banned Sharif from politics for life, Shehbaz said the elder Sharif would always remain their leader, and party workers would have to move forward with strength, courage and patience for the country's prosperity.

Shehbaz, Nisar discuss SC's ruling

"Authorities and workers must keep united and overcome personal grievances to work together. No matter what conspiracies the political opponents hatch, they cannot harm your strength and unity. The PML-N is the party of the people and will always be the biggest political party of Pakistan," he added.

Sindh Governor Mohammad Zubair called Shehbaz a 'ray of hope' for the people of Sindh and a symbol of development. He said the people of Sindh and Karachi wanted Shehbaz to work for them the way he had worked for Punjab.

"You changed Punjab through hard work and vision. You have done an extraordinary job for development as well as in health, education and other sectors," the governor told Shehbaz.

Later speaking to reporters, Shehbaz said if elected to power his party would turn Karachi once again into the city of lights by working day and night. "Not just one but several public transport projects similar to Green Line Metro will be initiated in the city," he added.

Shehbaz also vowed to replace the city's solid waste management with a robust system to eradicate the garbage issue. "Water issue will be resolved on war footings. We are indebted to address these issues," he said.

The Punjab CM blamed the PPP-led government in Sindh for "non-availability of buses in Karachi despite massive funding by the federal government in the Green Line Metro project".

To a question on the issue of southern Punjab province, the PML-N president said his party had always supported the idea of creating new provinces and passed a resolution in Punjab Assembly in 2012 in this regard.

He suggested a 'national commission' to decide where and how many new provinces were needed in the country.

With regard to rebellion of some PML-N lawmakers from southern Punjab, he said the lawmakers had parted ways with the general elections just around the corner. "So there will be no impact of these resignations," he added.
COMMENTS (1)
Comments are moderated and generally will be posted if they are on-topic and not abusive.
For more information, please see our Comments FAQ