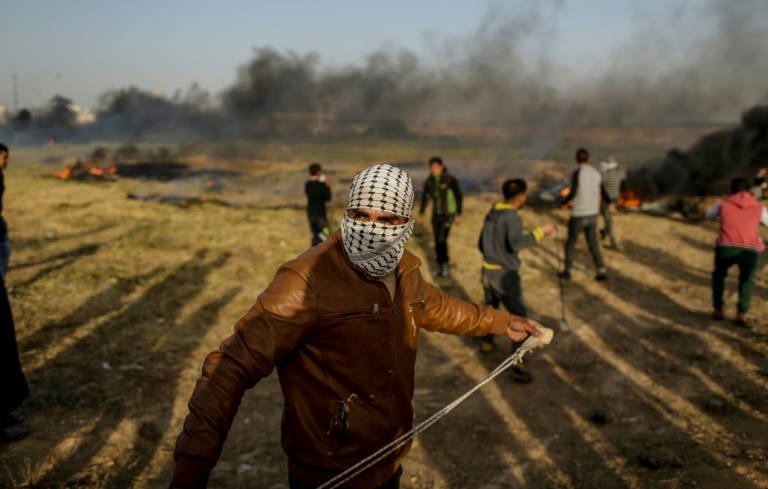 ---
GAZA CITY: Thousands of Palestinians are expected to rally at Gaza's border Friday despite warnings from Israel that its open-fire rules will not change, raising fears of fresh violence after the bloodiest day for Gazans in years.
The planned demonstration comes a week after Israeli troops killed 18 Palestinians during a protest at the heavily fortified Gaza border in what was the bloodiest day since a 2014 war.

The protests are in support of refugees, including those in the Palestinian enclave who want to return to their former homes in what is now Israel.

Tens of thousands demonstrated peacefully last Friday. But small groups of Palestinians approached the border, threw stones and rolled burning tyres towards Israeli troops who responded with live fire and tear gas.

The Israeli response generated significant international anger, with critics accusing troops of using disproportionate force.

Israel strikes Gaza after blast wounds four soldiers

But Israel has remained adamant such steps were needed to protect troops from an alleged gun attack by militants and stop attempts to infiltrate the border.

Ahead of Friday's planned protests Israeli Defence Minister Avigdor Lieberman vowed that open-fire rules would not change.

"If there are provocations, there will be a reaction of the harshest kind like last week," Lieberman told public radio.

Israel received support from the White House late Thursday, which called for Palestinians to engage in peaceful protest and stay 500 meters from Gaza's border with Israel.

"The United States strongly urges protest leaders to communicate loudly and clearly that protestors should march peacefully; should abstain from all forms of violence," Donald Trump's envoy Jason Greenblatt said, putting the onus squarely on Palestinians.

The latest White House statement would appear to put Trump's claimed aim of reaching a peace deal between Palestinians and Israelis even further out of reach.

Palestinians have already been infuriated by Trump's decision to upend decades of US policy and recognize Jerusalem as Israel's capital.

The current protests at Gaza's border are slated to last six week, coinciding with the expected opening of the new US embassy in Jerusalem in mid-May.

Others have been more critical of Israel, calling on security forces to avoid a repeat of last week's killings.

"I particularly urge Israel to exercise extreme caution with the use of force in order to avoid casualties," UN Secretary General Antonio Guterres said Thursday. "Civilians must be able to exercise their right to demonstrate peacefully."

Questions have mounted over Israel's use of live fire, with Palestinians saying protesters were shot at while posing no threat to soldiers.

Israeli planes hit Hamas in Gaza after rocket fire

Rights groups have criticised the army's actions, while the European Union and Guterres have called for an independent investigation.

Human Rights Watch called the deaths "calculated" and illegal.

Protest organisers in Gaza said they were planning to try to stop smaller numbers of demonstrators approaching the fence and hurling stones or rolling burning tyres at Israeli troops.

Asaad abu Sharkh, a spokesman and member of the organising committee of the protests, dubbed the Great March of Return, said better attempts will be made on Friday to keep Gazans from approaching the fence.

"I think this was a mistake, a mistake of organisation from us because we shouldn't have let people (go to the border)," he said.

"But at the same time we were not expecting the Israelis to shoot to kill."

There have been widespread social media calls for protesters to bring tyres to burn. Young Palestinians have been gathering tyres and carting them near the border to burn and create a smokescreen to make it harder for Israeli snipers.

Some have been walking the streets collecting money to buy tyres.

Israel accuses Hamas, the Islamist movement that runs the Gaza Strip and with whom it has fought three wars since 2008, of using the protests as cover to carry out violence.

Israeli military spokesman Ronen Manelis warned again Thursday of a wider response if such alleged activity continued.

Israel says more than half of the dead were members of militant groups, including the armed wing of Hamas.

Hamas's armed wing has claimed only five of them, saying they were participating "in popular events side-by-side with their people".

Militant group Islamic Jihad has claimed at least one of the dead as a member, but said he was not carrying a weapon when he was shot.

On Thursday in Khan Yunis in southern Gaza, Abu Yassin, 28, was among those collecting tyres and hauling them in carts pulled by motorbikes.

He said they were planning to light a number of tyres a few yards away from each other along the border at the same time to make it impossible for Israeli soldiers to see and shoot them.

"This is a peaceful protest," he insisted.
COMMENTS
Comments are moderated and generally will be posted if they are on-topic and not abusive.
For more information, please see our Comments FAQ