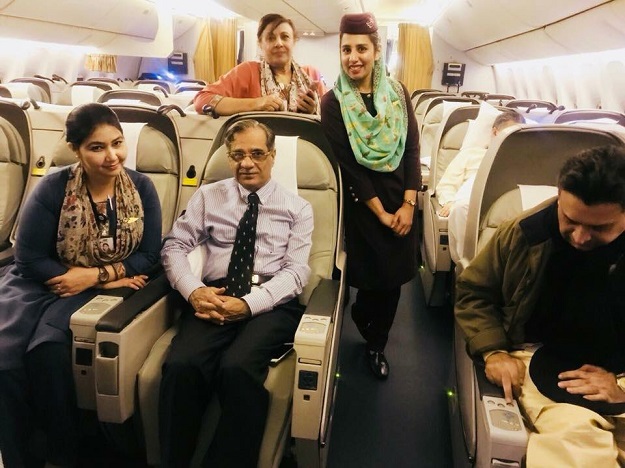 ---
Advocate Naeem Bukhari apologised to the chief justice on Wednesday for his remarks regarding the latter's photograph with air hostesses, Express News reported.

During court proceedings in a case being heard by Chief Justice of Pakistan Mian Saqib Nisar, Pakistan Tehreek-e-Insaf (PTI) member Bukhari offered a verbal apology to the country's top judge for expressing his reservation on his photo with Pakistan International Airline (PIA) air hostesses.


Recalling his controversial statements from the past, where he had maintained that a lawyer never loses a case but it is the petitioner who loses it, Bukhari said these comments became a topic of media debate last year.




Naeem Bukhari expresses reservations on CJP photo with PIA air hostesses


The image in question was taken during a Karachi-Islamabad flight where Pakistan International Airline (PIA) air hostesses approached the CJP for a photo. Justice Nisar complied with the request. It has since gone viral on the social media.

On Tuesday, while responding to the advocate's objection on the photo, Justice Nisar had inquired in a joyful manner why Bukhari was 'jealous'.

"You are encroaching on our rights," the lawyer had replied. Referring to the air hostesses as 'daughters', the chief justice had remarked that "sometimes you cannot say no to daughters."