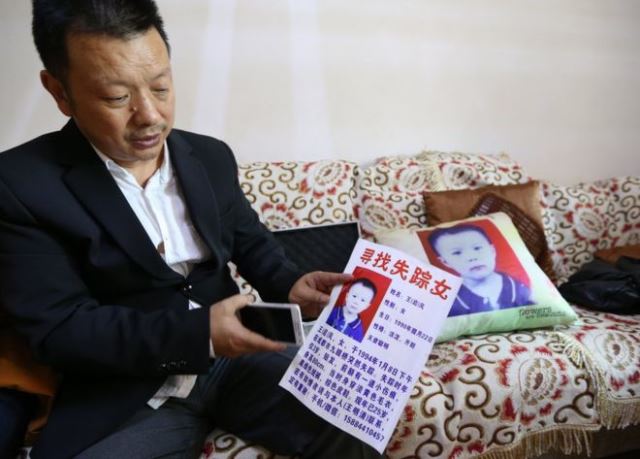 ---
Wang Mingquing decided to become a taxi driver with hopes that he might pick his daughter as a passenger in Chengdu city.

His daughter managed to contact the father after knowing about an online post regarding his journey to find her.

The pair met on Tuesday as many celebrated this fascinating reunion after 24 years.

According to a Chinese media outlet, Wang's daughter, Qifeng vanished when she was three-years-old.




This incident occurred when the husband and wife were selling fruits at their roadside stall and realized Qifeng had suddenly disappeared from their side.

For years, the couple searched everywhere in the city, putting up advertisements in newspapers and setting up online requests.

Baby believed snatched by monkey in India is found dead

Wang decided to become a taxi driver after signing up for a company known as Didi Chuxing in 2015.

His technique touched many people's hearts which eventually became viral enough to reach the Chinese media's attention. "One day, my daughter may just be the person sitting in my car!" he was quoted as saying.

Reunited at last

Chinese police managed to identify several women over the years who could have been Qifeng, but DNA tests showed they were not his daughter.




However, when a police sketch artist decided to work with the father and draw what Qifeng might look like as an adult. This procedure led the picture to be spread online.

The picture reached on the other side of the country where a women called Kang Ying was surprised by how much it resembled her.

When she contacted the father, she realised she resembled the missing daughter in a few ways including a small scar on her forehead and a tendency to get nauseous whenever she cried.

Lost and Found Team reunites mute child with family

The DNA results confirmed that Ying was indeed the girl Mingquing had been looking for.

The pair was reunited in person when Kang Ying flew to Chengdu on Tuesday.

"I can't tell you how much hope, disappointment and despair we have gone through these past 24 years. Now we can finally meet again," Mr Wang was quoted as saying in the Beijing Youth Daily newspaper.

This article originally appeared on BBC.
COMMENTS
Comments are moderated and generally will be posted if they are on-topic and not abusive.
For more information, please see our Comments FAQ