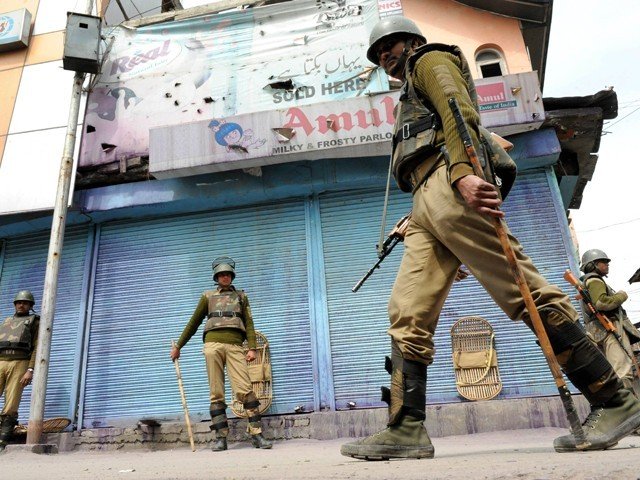 ---
MUZAFFARABAD: Protest rallies were taken out across Azad Jammu and Kashmir (AJK) on Monday to condemn the killing of youths at the hands of Indian forces in held-Kashmir.

20 people were killed in a Sunday search conducted by Indian forces in Shopian district of the restive region. Over 100 were injured in the operation.

AJK Education Minister Iftikhar Gilani had said that the government will observe a "condemnation day" to raise awareness about the Kashmir dispute which had compromised peace in South Asia.

A rally was taken out from press club to Quaid-e-Azam bridge. Government employees, local people and Kashmiri refugees, as well as workers of Jamaat-e-Islami, Pakistan Peoples Party and other religious parties took part into the rally.

The protesters chanted slogans along the lines of "go India go back" and "we want freedom".

Speakers, while addressing the protesters, said that Kashmiris should be given the right of self-determination which was granted by the international community under the banner of United Nations (UN).

"How long will Kashmiris continue to die with Indian bullets and world powers continue to remain silent," said senior mnister Tariq Farooq.

He vowed the people of AJK will never let Kashmir down, and condemned the killings of Kashmiris who had been fighting for their basic rights.

Indian troops kill at least 20 youths during search operations in occupied Kashmir

"In this era when everyone talks about human rights, abuses are at their peak and must be condemned on a  regional and international level," Farooq added.

Addressing those in attendance, opposition leader in the legislative assembly Chaudhry Muhammad Yaseen said that people of AJK cannot remain silent on the killings in the valley. "People in IoK are our brothers and we will continue to support their political and genuine struggle of the right to self-determination," he said.

"The blood of Kashmiris is not valueless. International powers should come forward to take notice of the unjust killings in Shopian," Yaseen added.

He stressed that it was time to launch diplomatic offensive against India as its military establishment is playing with the lives and properties of the people of Kashmir.

"We will raise the issue with human rights organisations in Europe and other western countries to condemn the abuse," the opposition leader added.

Pakistan Tehreek-e-Insaf  (PTI) leader in AJK Assembly Abdul Majid Khan the UN, European Union and Organisation of Islamic Cooperation (OIC) must put pressure on New Delhi to give access to human rights organisations and fact-finding missions to the valley.

"Foreign Office of Pakistan must activate its Kashmir desks in Europe and other embassies to keep the West updated on the situation in IoK," Khan added.

Protest rallies were also taken out in Mirpur, Kotli, Bagh, Neelum, Haveli, Rawalakot, Bhimber, Jehlum Valley and Sudhanoti where deputy commissioners and the leaders of the political parties took to the streets to condemn Shopian killings.

Occupational forces have been deployed in large numbers across the south Kashmir region to keep people from protesting. The shutdown was also observed in other districts of north and central Kashmir to condemn Indian army's brutality.
COMMENTS (1)
Comments are moderated and generally will be posted if they are on-topic and not abusive.
For more information, please see our Comments FAQ