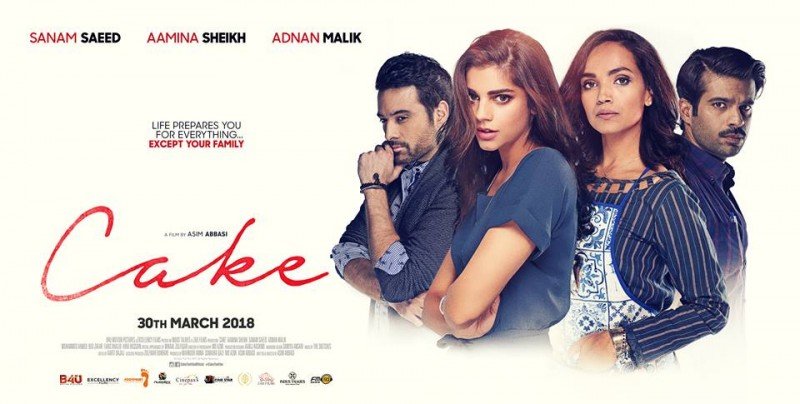 ---
KARACHI: What makes a family? How do we remember a loved one when they are gone? A photo album hidden in the attic? Or personal memorabilia like a necklace or a letter? It can even be a certain perfume or the gentle sound of their voice when they called you from afar or how they used to scold or tease you.




Too often, only spending time away from our families makes us realise their worth. And sometimes, we don't realise it until it's too late. In this way, a family is not like cake, as the Sanam Saeed, Aamina Sheikh and Adnan Malik-starrer Cake would have you believe. Family is sweet and sour. Or perhaps, it's like green tea: you hate the taste but it's good for you.

Come to think of it, the catch-line of the film perfectly encapsulates the idea that life prepares you for everything except your family. Cake, directed by debutante Asim Abbasi, revolves around a dysfunctional family. Zara (played by Saeed) has left home many years ago for mysterious reasons, Zareen (Sheikh) is the veritable head of the family, taking care of everyone. When their father is hospitalised, the family reunites in an unexpected way, reluctantly unfolding past wounds, hidden secrets and sibling rivalries.

Asim Abbasi bags Best Director award for 'Cake' at UK Asian Film Festival

The beauty of Cake lies in its layers. Just like a bite of a well-baked, multi-flavoured cake, the film gives us a little bit of everything. And it's not until the very end that you realise that you might be at the risk of a sugar overdose. But it's all okay because this will be the best cake you've had in a long time.

The family drama gives you bits of humour and yet, maintains a steady pace. It tells you, "Hey, you like this? Laugh while you can and get ready for an emotional rollercoaster." Cake is perhaps the most realistic portrayal of a family ever seen in Pakistani cinema. Everything about it is so real that you don't feel you're watching a film. You become part of the characters' journeys. What else does a good film need if not authenticity?

With Cake, Abbasi declares his arrival, straight into the league of elite directors like Nadeem Beyg and Nabeel Qureshi. He's an actor's director and knows exactly what he wants out of his cast (I only wish he had worked on the Sindhi accents a bit more). The talented actors are in the hands of a man with a vision and provide him with what he needs to make that vision materialise.




Saeed portrays Zara with suppressed emotions, running away from her past. Hers is the journey we try to keep digging into, slowly. The actor's naturally calm exterior and controlled style of speaking aids her project Zara's insecurities.

Sheikh as Zareen, on the other hand, is vocal, frustrated and bossy. And unlike other actors who get carried away in an attempt to show off their expertise (and subsequently fail), she is on-point.

Malik chose the right film to make his cinematic debut. It's amazing how he projects so much without actually doing anything. His character Romeo is a surprise that everyone will enjoy. Faris Khalid serves his purpose. Mohammad Ahmed as the father deserves a special mention.  Beo Raana Zafar as his wife is the icing on the, well, cake. She's the main reason you will laugh and cry in the film. Her character will stay with you long after.

'Cake' becomes first Pakistani film to have a world premiere in London's Leicester Square

The best part about Cake is that all the actors know the nuances of their characters. Of course, a brilliant script establishes a strong foundation for them to build upon. The dialogues are organic and the pace of each scene is natural. You can see Abbasi's touch in every frame and every colour. Mo Azmi's cinematography paints a beautiful and intelligent canvas. He not only shoots pretty pictures but adds a meaning to them. His eyes make the story more effective.

Cake's soundtrack definitely guides you along the way. With tracks like Tiri Pawanda, Saif Samejo's renditions are more impactful than ever for two reasons. Firstly, it adds a new layer to the film, reconnecting us with our cultural roots. And secondly, it shows Samejo's love for the Sindh as he pours his heart out in the songs.




It prides me to say that Cake shows other Pakistani film-makers that it's time to get rid of your item songs, hackneyed storylines and cheap gimmicks. It's time to take cinema seriously now. Cake is one film - after Punjab Nahi Jaungi – that people will want to cherish (again and again) for a long time.

Verdict: When life gives you a few hundred bucks, you better go and watch Cake.

Rating: 4.5 stars out of 5

Have something to add to the story? Share it in the comments below. 
COMMENTS (1)
Comments are moderated and generally will be posted if they are on-topic and not abusive.
For more information, please see our Comments FAQ