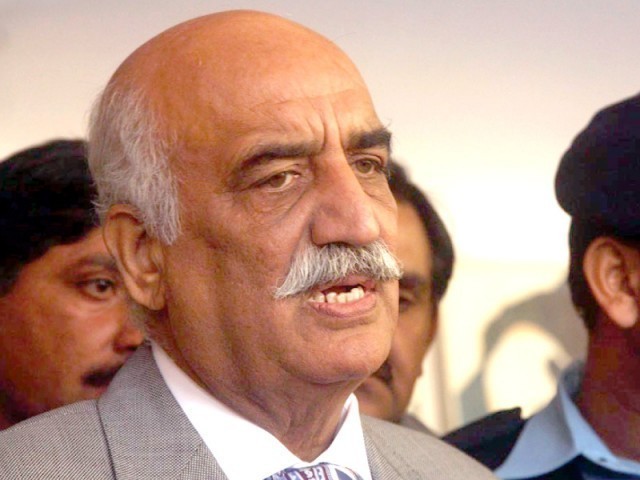 ---
ISLAMABAD: Leader of the Opposition in the National Assembly Khurshid Shah has criticised Muttahida Qaumi Movement (MQM) Pakistan senior leader Farooq Sattar for his unwillingness to accept his removal as the party's convener.

On Monday, the ECP removed Sattar as convener of MQM-P in the wake of a rift within the party over the nomination of Kamran Tessori for a Senate seat.

While the Bahadurabad faction hailed the decision, Sattar termed it a conspiracy to divide the party and said he will call a mass gathering to take a future line of action.

"Sattar had earlier stated that he would comply to the ECP's decision," Shah said in a statement on Tuesday. "He had promised that in case a decision is announced against him, the will of the people would not be derailed."

Sattar's aberration of calling ECP's decision "black law of the century" has left people disappointed and awestruck. Shah said, "The course of  action he has taken is detrimental to state institutions and governance."

MQM's Raees Mama arrested at Karachi airport

"MQM has let down the people of Karachi, Hyderabad and Sukkur," he said. "People will not be fooled, they have understood that this is a power struggle."

Shah went on to add that the MQM is least bothered about the issues people are facing. "Their primary concern is to climb up the ladder in the party ranks and to consolidate power."

The Opposition Leader also criticised Prime Minister Shahid Khaqan Abbasi decision of not meeting the elected chairperson of the senate, Sadiq Sanjrani.

"It is disheartening to hear about the PM's refusal to meet the Senate chairperson," he said. "The Prime Minster has shown disrespect towards an institution."

"Power is temporary but institutions are permanent," he remarked.