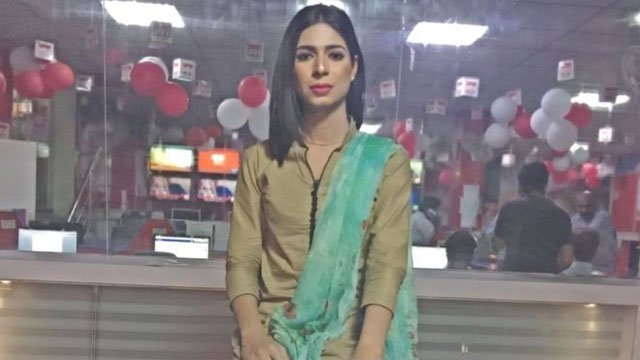 ---
In a first for Pakistan's media industry, a Lahore based private news channel hires the country's first transgender news anchor.

Marvia Malik, a 21-year-old transgender from Lahore is been able to instantly turned herself into a celebrity as news of her hiring goes viral.

Marvia's incredible success story was celebrated by celebrities, journalists and activists from all over Pakistan who were quick to praise her on social media.

In a first, transgender person becomes news anchor in Pakistan

In an exclusive interview with Express Tribune, we explore how Marvia as Pakistan's first transgender news broadcaster, hired by Kohenoor TV, was able to make history.

Marvia, tell us a little about yourself and your life's journey so far?

I was born and raised in Lahore, where I was able to complete my matriculation with the support of my family. After my matriculation, I had to work full-time to support myself and was able to do a makeup course, which helped me in landing my first job as a makeup artist at a beauty salon in Lahore.




As a makeup artist, I was able to earn a decent living which supported my higher education and completed my intermediate from Punjab group of colleges and later on, did my Bachelor's in Mass Communication from Punjab University. My plan is to apply for a master's degree in journalism.

What motivated you to step into the fashion world?

As I had plenty of interaction with people from the fashion industry, I was able to connect with fashion designers and celebrities.

I landed my first major fashion shoot with the help of some ambitious students from the Lahore Grammar School (LGS), who were able to cast me as Pakistan's first runway model for the PFDC fashion week.

My runway modelling debut created a lot of hype and I was able to get multiple offers from the fashion industry.

How were you able to land a job at Kohenoor news and also ace the interview?

I decided to apply for the position of a broadcast journalist because I always wanted to do more in life and journalism has always been my passion. On hearing the news that Kohenoor TV was about to re-launch itself after 10 years and they were looking for news anchors, I immediately applied for the position.




When I was called for the job interview, I was quite nervous and anxious about how things would unfold. As soon as I was called in, I gave my best and managed to impress my directors, Bilal Ashraf and Junaid Mehmood. They were quite impressed with my confidence, my talent and my ambitions in life, this helped me and I was hired on the spot.

In a first, Pakistan to send trans persons as Hajj volunteers

What was your childhood like, Marvia and how accepting is your family with you being a trans person?

My childhood memories aren't that special, I had to face a lot of discrimination and injustice from the society, which is a typical story for all transgender individuals growing up in Pakistan.

As far as my family is concerned, I was never accepted by my family and they will not accept me in the future. This has never let me down. But my friends have always been supportive of my work and after securing the TV job, I am fortunate enough to receive even more love from them.

Marvia, what are your future plans and what would you say to people who still do not accept transgender people as their equals?

My plan is to fight for the rights of the transgender community as I believe that empowerment of my community is my empowerment.

I am now being appreciated around the world for the work which I am able to do in Pakistan, but I hope to do more in the near future. I also wish to see transgender people run for public office and an increase in government jobs, which stands at a supposed quota of 5 per cent, which is hardly implemented.

I believe the transgender community must not be marginalised for who they are and we should be considered as equal citizens in Pakistan. I want to tell the world that nothing is impossible for the transgender community and through the work I do, I wish to not only highlight the plight of my community but also strive for implementation of work which will bring positive change in our lives.

Transgender community files manifesto for upcoming elections

For the past many years, the government has only issued Computerised National Identity Cards (CNICs), which the government thinks is a great accomplishment from their end. If you ask me, there are multiple issues which still remain unresolved such as lack of acceptance by our society, lack of employment opportunities and educational options to name a few. We need to address these issues on a priority basis.

What is your message for Pakistan especially when it comes to the work that needs to be done for the empowerment of the transgender community?

I am an educated transgender, I wanted to apply for a government job and further my education. But initially, I was not able to do all this as I was told I would never be able to succeed in life as I am a transgender.

There are many issues which still remain unresolved when it comes to the rights of the transgender community in Pakistan. Issues such as acceptance of transgender people within our society, lack of acceptance within our families, issues relating to property inheritance, lack of job opportunities and even rights of basic citizens, due to which I see my community being pushed to the edge.

I do not want to fight for myself, I want to fight for the basic rights of my entire community and this is the message I want the world to know. A transgender person is capable of doing things that anyone can, only if they are given equal opportunity to change the public mindset.

I was able to make history only because I believed in myself and am happy to see that my success story sends a positive message to the entire world that a transgender is able to do anything no matter what, but only if they are given the same opportunity as everyone else.
COMMENTS (3)
Comments are moderated and generally will be posted if they are on-topic and not abusive.
For more information, please see our Comments FAQ