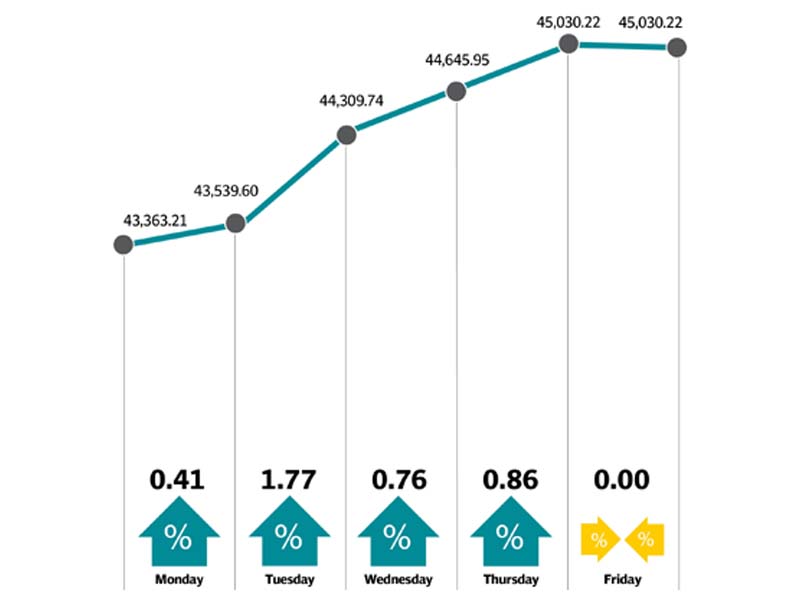 ---
KARACHI: The stock market got a massive boost during the outgoing week with the KSE-100 Index adding 1,667 points or 3.84% to close at 45,030.22, mainly due to the massive devaluation of the rupee against the greenback which helped reignite investor interest in a number of sectors.

While the rupee's devaluation came due to the rising current account deficit, a weaker currency will make Pakistani exports cheaper, boosting shipments to global markets. On the flipside, sectors that depend heavily on imported inputs, including the heavyweight cement sector, may face backlash due to increased cost of production.

Expected announcement of a tax amnesty scheme and rumours of incoming soft loans from friendly neighboring countries also helped improve sentiments in the market.

After a dull start to the week, the rupee's devaluation of 4% on Tuesday shifted market momentum, which carried through the rest of the week. Sectors with dollar-linked revenues, including textiles and power, attracted interest as the rupee's value fell, on expectations of higher company earnings.

Increased interest in banks and financial services sectors due to expectations of an early interest rate hike also helped push the benchmark index forward. On Wednesday, news of a new fertiliser policy by the government being in the works helped the index end in green again, apart from Tuesday's euphoria.

Average daily volumes for the outgoing week witnessed a jump of 10.3% to 193 million shares. Similarly, average traded value increased by 38.3% to $76 million.

In terms of sectors, major contribution came from commercial banks (814 points), oil exploration and production companies (248 points) amid increase in prices of Brent by more than 5% to USD 69.24/bl during this week, fertilisers (219 points), cements (161 points) in anticipation of rise in cement prices and power generation (77 points)

Scrip-wise, top five contributors were HBL (+199 points), MCB (+158 points), BAHL (+154 points), UBL (+137 points) and Lucky Cement (+95 points).

Foreign investors remained on the sidelines with net buying of $0.16 million during the week, compared to sell of $0.46 million last week. Local selling was largely executed by individuals ($17.21 million).

Among major highlights of the week were; current account gap widened 50% to $0.82 billion, greenback trading at Rs115/dollar dipped rupee to record fall, Moody's warned Pakistan on downgrade risks amid political uncertainty, settlement of Rs514 billion circular debt in sight, FDI jumped 15.6% on massive Chinese inflows, and government announced plans of modest hike in tax target for 2018-19.

Winners of the week

Fauji Fertilizer Bin Qasim




Fauji Fertilizer Bin Qasim Limited manufactures, purchases, and markets fertilisers. The company produces granular urea and DAP. Fauji Fertilizer provides its products to farmers in Pakistan.

Bank Al-Habib




Bank AL Habib Limited operates commercial banks in Pakistan.

Losers of the week

Philip Morris Pakistan




Philip Morris Pakistan Limited manufactures and sells tobacco and cigarettes.

Bata Pakistan




Bata Pakistan Limited manufactures and sells rubber, leather, and microlon sandals and shoes.

Published in The Express Tribune, March 24th, 2018.

Like Business on Facebook, follow @TribuneBiz on Twitter to stay informed and join in the conversation.
COMMENTS
Comments are moderated and generally will be posted if they are on-topic and not abusive.
For more information, please see our Comments FAQ