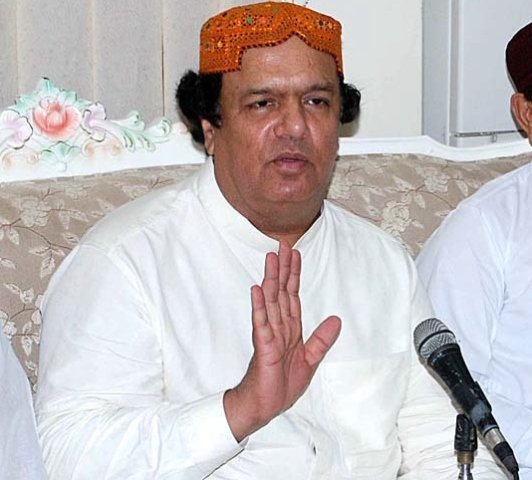 ---
KARACHI: Pakistan Peoples Party (PPP) MNA and former Sindh law minister Ayaz Soomro passed away in New York after a protracted illness. He was 60 years old.

According to his family members, Ayaz was suffering from heart and kidney problems for quite long time and passed away from a cardiac arrest Tuesday morning. His body will arrive in Pakistan in a day or two and he will be laid to rest in a graveyard in Larkana.

Born to a lower-middle class family of Shahdadkot town in 1958, Ayaz's father, Khuda Bux Soomro, was a primary teacher. The family later moved later to Larkana city where Ayaz finished his secondary education and did his LLB from Sindh University, Jamshoro.

He started his political career as student leader during Zulfikar Ali Bhutto's time and went to jail many times during the Movement for Restoration of Democracy (MRD).

A lawyer by profession, he served many times as the president of the Larkana Bar Association.

"No doubt he was a famous lawyer in the district, but his identity was of a PPP jiyala," said senior journalist Azam Zuhrani, adding that Ayaz served as a minister from 2008 to 2013, but he had no personal house in Karachi.

I have paid my bills: Ayaz Soomro

"Some time ago, he had purchased a house," said Zuhrani, adding that Ayaz used to travel by the intercity bus while coming to Karachi to plead his clients' cases in the Sindh High Court.

Considering his dedication to the party, PPP appointed him many times as the Larkana division president and he remained a long serving president till the party dissolved the provincial body in April, 2016.

In parliamentary politics, PPP allotted Ayaz a provincial assembly seat in 2002 and he played an important role while sitting on the opposition benches till 2007. In 2008, he again contested the provincial election from Larkana and won the seat. The PPP government appointed him as the law minister with other additional portfolios.

During his tenure as the law minister, many controversial bills were passed by the Sindh Assembly. "He once expressed dismay over moving two different local government bills, one for Karachi and another one for the rest of Sindh. This led to a movement in Sindh against the PPP government and he regretted it," one of his close friends said, adding that Ayaz shifted the blame of the controversial law to then federal law minister, Babar Awan, who on the orders of Asif Ali Zardari attempted to appease the Muttahida Quami Movement (MQM).

Senate's opposition leader: 'PPP leader's text message to support PTI available'

Later, he along with some other senior leaders of the PPP, convinced the then president of Pakistan Asif Ali Zardari to undo the decision. Finally, they withdrew the bill amidst protest by MQM MPAs, who being coalition partners, parted ways with the PPP government.

In 2013, PPP awarded him a National Assembly seat, NA-204, from Larkana. He won the election, but hardly attended a few sessions because of his illness.

Ayaz got married when he was law minister. He had no children. He is survived by three brothers and a wife to mourn his death.

Three-day mourning announced

PPP has announced a three-day mourning in Larkana to mark the death of its senior leader.

PPP Sindh President Nisar Ahmed Khuhro said that the mourning would be observed only in Larkana, while all scheduled party engagements would remain suspended for three days.

PPP Chairperson Bilawal Bhutto Zardari expressed grief and sorrow over the demise of Ayaz. In his condolence message, the PPP chairperson eulogised the services and sacrifices of Ayaz for the party and his lifelong commitment and loyalty to the cause.