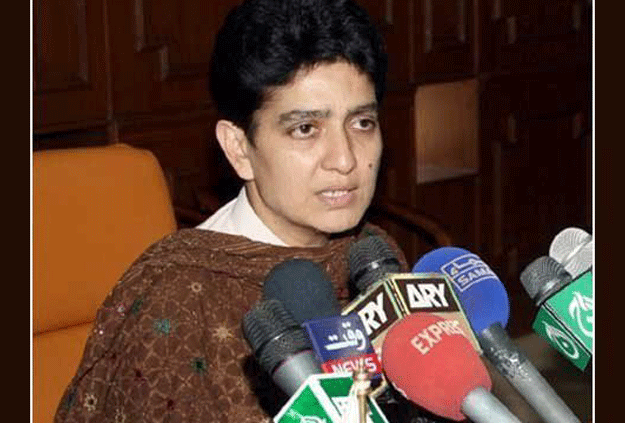 ---
QUETTA: Pandemonium was witnessed during the Balochistan Assembly session when Speaker Rahila Hameed Khan Durrani disallowed opposition leaders from responding to a speech of an MPA who condemned registration of FIRs against Pashtoon leaders.

On a point of order on Thursday, Pashtoonkhwa Milli Awami Party's (PkMAP) Ubaidullah Babit took to the floor and expressed his strong reaction over registration of FIRs against Pashtoon Tahafuz Movement (PTM) chief Manzoor Pashtain and MPA Nawab Ayaz Khan Jogezai.
A couple of days earlier during a conference, the PTM chief and Jogezai had condemned the state for fanning terrorism. Three FIRs were lodged in Zhob police station, Quetta police station and Qilla Saifullah police station against them.

PM fails to save Balochistan CM

Babit termed registration of the FIRs as pushing Pashtoons against the wall and said that the leaders had not delivered any objectionable speeches as they were speaking about the atrocities committed against the Pashtoons.
Babit expressed his concern over seeing Pashtoons as anti-Pakistan elements and said that they did not need any certificate to prove that they were loyal to Pakistan.

"We are just protesting over atrocities against Pashtoons," he said, announcing that Pashtoons would continue their struggle within the parameters of the Constitution.

"We are not for sale and are doing politics for achieving our rights," Babit concluded.
The new opposition leader Abdul Rahim Ziaratwal and Awami National Party MPA Engineer Zamarak Khan Piralizai took to the floor to respond to Babit's speech, but the speaker asked both the members to sit down.

However, they did not stop and started exchanging hot words.
The speaker warned them that their microphones would be switched off and said that they "cannot behave like this in the house".

They continued with their fiery remarks which compelled other members to jump in also converting the house into a 'fish market'. No fists were thrown during the heated arguments.

The speaker expunged all remarks from the assembly record.
Former Balochistan chief minister Dr Malik Baloch expressed his concerned over the attitude of members and said, "Although it is the only forum to speak on such issues, but we must honour the ruling of the chair."
The house adopted a joint resolution with consensus and paid rich tributes to human rights activist and prominent lawyer late Asma Jahangir and said that the vacuum created due to her death could not be filled.

Rehmat Baloch and Yasmin Lehri moved the condolence resolution.
The members, who spoke on the resolution included: Dr Malik Baloch, Ziaratwal, Piralizai, Sardar Abdul Rehman Kathrin, Asim Kurd, Dr Hamid Achakzai, Rehmat Baloch, Dr Shama Ishaq, Agha Muhammad Raza, Shahida Rauf, Sheikh Jaffar Khan Mandokhel, Dr Ruqayya Saeed Hashmi and William Barkat.
PkMAP's Ziaratwal new opposition leader of Balochistan Assembly

They said that that with the sudden death of Asma Jahangir Pakistan was deprived of a vocal and courageous lady who stood up against all dictators and remained a part of all struggles launched in the country for upholding democracy and rule of Constitution.
"We have not seen such a courageous lady after Benazir Bhutto as they were symbols of struggle for the rights of the people," they said, adding that Asma was the voice of the downtrodden people and always facilitated the helpless people of the country.

Shahida Rauf said that the resolution should be considered from entire house.
COMMENTS
Comments are moderated and generally will be posted if they are on-topic and not abusive.
For more information, please see our Comments FAQ