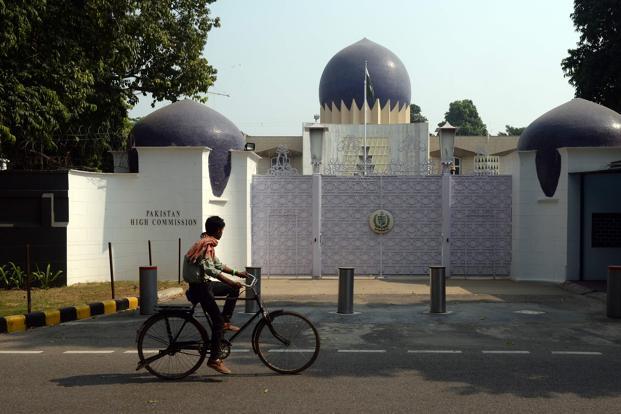 ---
ISLAMABAD: Pakistan's relations with India touched a new low on Thursday after Islamabad announced that it was recalling its envoy to New Delhi for 'consultations' over harassment of its diplomatic staff and their families by Indian secret agencies.

"Our High Commissioner in New Delhi has been asked to come to Islamabad for consultations," Foreign Office spokesperson Dr Muhammad Faisal told reporters at the weekly briefing.

The move came against the backdrop of a series of recent incidents in which Pakistani diplomatic staff and their families -- including children -- were harassed by the Indian secret agencies.

The spokesperson said Pakistan lodged a strong protest with both the Indian high commission in Islamabad as well as External Affairs Ministry in New Delhi.

"This deliberate bullying, which continues is not confined to a single isolated event, and continues unabated despite repeated official protests lodged with the Indian high commission here, and also with the Indian Ministry of External Affairs at the highest [level]," Faisal further said.

He said the Pakistani mission also shared photographs, identifying the individuals, who forcibly halted and took pictures of the officers, with the Indian External Affairs Ministry.

Pakistani diplomats in New Delhi reportedly being harassed

"Regrettably, no positive action has been taken by the Indian side so far," he regretted.

"The total apathy and failure of the Indian government to put a halt to these despicable incidents, sparing not even young children, indicates lack of capacity to protect foreign diplomats posted in India -- or a more reprehensible, complicit unwillingness to do so.

"Under the Vienna Convention, safety and security of the Pakistani diplomats and their families is the responsibility of the Indian government."

Indian External Affairs Ministry spokesperson, however, played down Pakistan's move, saying recalling of the high commission was a routine affair.


Harassment of Pakistani diplomats, families continues in New Delhi


The spokesperson said India was looking into the Pakistani allegations while pointing out that its diplomatic mission was also facing some issues in Islamabad.

The latest controversy demonstrates a new low in the already fragile relationship between the two nuclear-armed neighbours. This came as tensions continued to soar along the Line of Control because of repeated incidents of clashes between the militaries of two countries.

On Thursday, Foreign Minister Khawaja Asif painted a grim picture of any prospects of improvement in ties between the two countries. He said India was violating the ceasefire agreement time and again on the Line of Control and working boundary.

"In such circumstances, we are not expecting improvement in relations between the two countries," Asif was quoted as saying by the state-run Radio Pakistan.