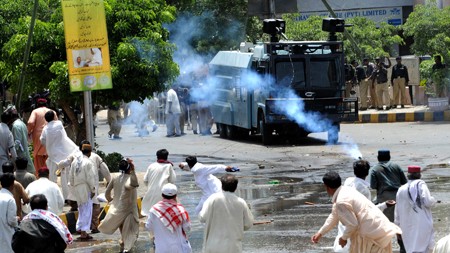 ---
KARACHI: Hundreds of teachers protesting in Karachi over insufficient salaries have said they will launch a hunger strike from Friday.

Earlier, the protesting teachers were marching towards the Governor House, when they were subjected to baton charge, tear gas and water cannons at Ghani Chorangi on Thursday.

They stated that if a notification was not issued by June 3rd, they will march towards the President House.

More than a thousand teachers from all over Sindh are taking part in the protest, demanding a rise in salaries, allowances and other incentives.

The protesting teachers have also warned they will extend their protest to Interior Sindh if their demands are not met.
COMMENTS
Comments are moderated and generally will be posted if they are on-topic and not abusive.
For more information, please see our Comments FAQ