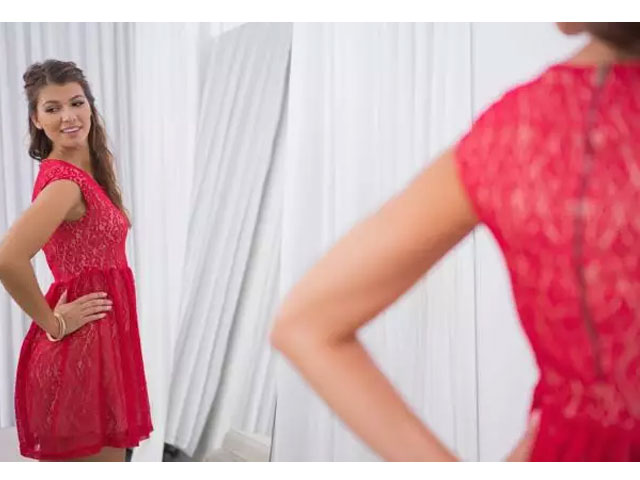 ---
A teenager sent a picture of herself trying on a dress to the wrong number accidentally without having an idea of ending up helping raise over $33,000 for a child suffering from leukaemia.

Sydney Uselton took two pictures to send to a friend for their opinion while shopping for a dress for a school formal event, The Independent reported.

Wrong number turned out to be a man called Tony Wood, father of six who lives in Spring Hill, Tennessee, United States.

Uselton's friend, Mandi Miller posted the exchange on Twitter which went viral.


Syd accidentally sent pics of her dress to the wrong number and this was their response 😂 pic.twitter.com/SWmcqSFiqh

— Mandi Miller ❂ (@bbymandi) March 8, 2018


Wood was unsure how to respond so he sent a picture of five of his children giving Uselton the thumbs up. He explained: "My wife wasn't home so I couldn't get her opinion and I assumed that the children thumbs upping her would accomplish that substantially better than some overweight middle aged bald guy."

Wood replied to Uselton saying: "I believe this message was intended for someone else. My wife isn't home, so I couldn't get her opinion, but the kids and I think you look stunning in your dress! You should definitely go with that one!"

While speaking to Daily Mail Australia he said: "Society puts a lot of pressure on these young women to have a certain look and a certain body build.

"We try to teach our children to be themselves and not worry about what others think... Even with that, my young daughters already express a desire to 'fit in' and I figured this young lady might need that reassurance."

The story then took a surprising turn when some Twitter users joined the Facebook group for Wood's sixth child: four-year-old Kaizler who wasn't at home and was absent from the picture because he was in hospital undergoing chemotherapy for his leukaemia.




Hello! Apparently you have made my children Twitter famous! My 2nd youngest (not pictured, he was at chemo clinic) has a FB page for his fight against Leukemia and one of our Prayer Warriors recognized the children! Btw, my wife agreed that the dress looked great! God Bless!

— TonyFromTN (@TonySellsTN) March 9, 2018


"I decided, 'Let's make this person's day.' So I had the kids thumbs up her and told her she looked stunning in her dress. Now, all of the sudden, my kids are Twitter famous! Pretty cool!"

Wood also shared an amusing video of his children's reaction to being told they'd gone viral on the social network too.


Hope Twitter does it's Magic. Below is the GoFund me link for Kaizlers treatment for Leukaemia.
Kaizler is missing in the pic, Let's get a Thumbs up from him too .
@TristarHomeTeamhttps://t.co/QFOp7fIcvx

— Hegde (@__Hegde) March 9, 2018


Woods had set up a GoFundMe page on Facebook to raise money for Kaizler's treatment in December 2015, but after the happening donations suddenly came pouring in from strangers.

The parents raised over $33,000 although they hoped to raise $10,000.


You're very kind. Here is a thumbs up from Kaizler! pic.twitter.com/hHbl48Zkc7

— TonyFromTN (@TonySellsTN) March 9, 2018


Wood then shared a picture of Kaizler giving a thumbs up in response to a Twitter request.

"It's a bigger blessing than anyone could ever know," Wood said.

The article originally appeared in The Independent.