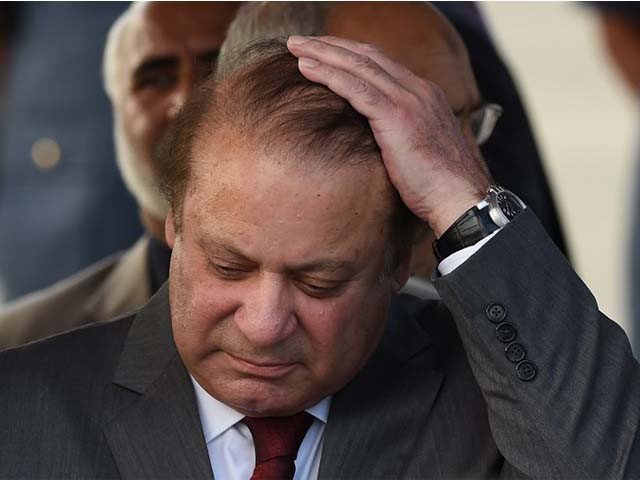 ---
The Supreme Court has rejected petitions to initiate contempt cases against Nawaz Sharif, Shehbaz Sharif and others including Captain (retd) Muhammad Safdar.

The contempt petitions were moved by habitual petitioner Mahmood Akhtar Naqvi.

The three-judge bench headed by Chief Justice of Pakistan (CJP) Mian Saqib Nisar observed that the statements against judiciary will be examined at an appropriate time.

During the hearing, petitioner stated that after court's verdict of ousting Nawaz Sharif, the former premier started carrying out political rallies and verbally disrespecting the courts.

'Ridiculing' judiciary: Contempt hearing against Sharifs today

To this, the CJP replied that the court already has different statements on record. When the time's right they will form a case.

On the other hand the court also rejected contempt of court petitions over Daniyal Aziz, Talal Chaudhry, Khawaja Saad Rafique, Nayyer Bhukari, Firdous Ashiq Awan and Yousuf Raza Gilani.

In 2017, Naqvi moved contempt petitions against Sharif brothers, Javed Hashmi, Railway Minister Saad Rafiq, Daniyal Aziz and others.

The same bench fixed review petition filed by Yousuf Raza Gilani against his conviction for not writing letter to Swiss authorities in the NRO case in 2012.

The bench has also fixed same petitioner's contempt plea against PTI chief Imran Khan as well.

Interestingly, the bench has also fixed another contempt plea filed by Naseer Kayani for criticizing former CJP Iftikhar Muhammad Chaudhry.

The petition was filed in 2014 after his retirement.
COMMENTS
Comments are moderated and generally will be posted if they are on-topic and not abusive.
For more information, please see our Comments FAQ