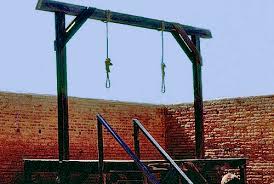 ---
ISLAMABAD: A total of 486 cases have come before the military courts since their inception in the year 2015. The army courts, which were set up after passing a constitutional amendment, have concluded 333 cases and awarded capital punishment to 186 persons, said a written reply of the Ministry of Defence during question hour in the National Assembly on Monday.

MNA Abdul Qahar Khan Wadan had inquired from the defence ministry about the total number of cases pending in the military courts at present along with details. In reply to this question, the ministry stated that 101 cases were in the military courts and that 52 cases had been dropped.

Military courts revival wins NA nod

According to the details provided to the parliamentarians, 79 individuals were awarded life imprisonment by these courts and 47 convicts jailed for 20 years.

The military courts have also jailed one person for 18 years, another convict for 16 years, 13 individuals for 14 years, three persons for 10 years, and two convicts for seven years, the reply said.

Only one individual was acquitted by these courts since their inception, it added.

A total of 332 appeals were filed in military appeal courts out of which 307 had been finalised and only 25 were under process, the lawmakers were further informed.

All the 151 mercy petitions sent to the Chief of Army Staff (COAS) had been rejected by him, it said.

However, the rejected mercy petitions were moved to the President of Pakistan who had turned down 62 of them while 89 of them were under process with Ministry of Interior, the reply added.

In the same connection, a total of 74 cases were termed sub judice in the superior courts, it said, adding that 49 of them were in the Supreme Court of Pakistan, three in the Lahore High Court, six in the Peshawar High Court and 16 in the Sindh High Court.

Govt set to send 95 cases to military courts

NA session adjourned

At the onset of the proceedings, the National Assembly lacked quorum apparently due to the Senate polls taking place in the Parliament House.

As soon as the proceedings started and Speaker National Assembly Ayaz Sadiq was about to proceed with the question hour, Pakistan Tehreek-e-Insaaf lawmaker Dr Shireen Mazari said, "It is a joke (with the parliament) that no minister is available in the House. I would like to point out the quorum."

This led to headcount and subsequently the proceedings of the House were adjourned till Tuesday (today). Due to breach of quorum no item appearing on the agenda of the House could be taken up.