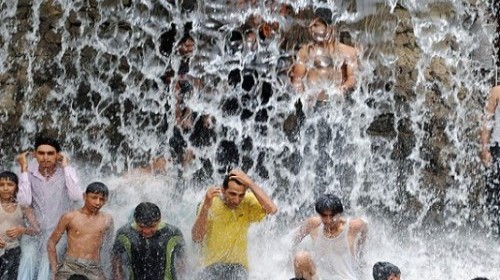 ---
The provincial capital on Wednesday received the highest maximum temperature in the current summer season as the mercury touched 47 degrees celsius and day remained very hot and dry.

Met office sources told on Wednesday that the highest maximum temperature 47 was recorded earlier in 1954 while the max temperature in the current season was recorded up to 46 in May.

Meanwhile, the local meteorological department forecasted mainly hot and dry weather with chances of dust raising winds in Lahore during the next 24 hours.

As per synoptic situation, a westerly wave is likely to affect the extreme upper parts of the country and also the ongoing heat wave is likely to continue in the country.

Weather experts said that mainly hot and dry weather is expected over most parts of the country, however, isolated thunderstorm or rain is likely to occur over Hazara, Malakand, Rawalpindi, Gilgit-Baltistan and Kashmir.

The city temperature recorded at maximum 47 and minimum 30 degrees celsius while relative humidity remained at 18 per cent in the morning at 8:00 am and 10 per cent in the evening at 5:00 pm.

The highest maximum temperature in Pakistan was recorded 53.5 degrees in Mohen jo Daro and 50.5 in Noor Pur Thal (Punjab).


The met office has predicted rainfall in various parts of the country along with wind storms this evening, which is hoped will dampen the heat wave.




Chief Metreologist Riaz Ahmed told Express that the rainfall will bring some relief for the people in Punjab which has been engulfed in a heat wave, with temperatures soaring over 40 degrees celsius.




He said that the weather is likely to remain the same in Karachi for the next few days while the weather is expected to remain pleasant in the northern areas due to clouds.




In Balochistan, weather is likely to remain hot for the next few days.


On the other hand, Pakistan Electric Power Company (Pepco) said that electricity shortfall has mounted to 3,735 megawatts with increasing mercury level.

Sources in PEPCO said that the demand has surpassed the production target with electricity generation estimated at 12,580 megawatts.

Owing to this shortfall, the supply to Karachi Electric Supply Company (KESC) has been reduced from 700 megawatts to 570 megawatts.

Click here to view the slideshow.
COMMENTS (1)
Comments are moderated and generally will be posted if they are on-topic and not abusive.
For more information, please see our Comments FAQ