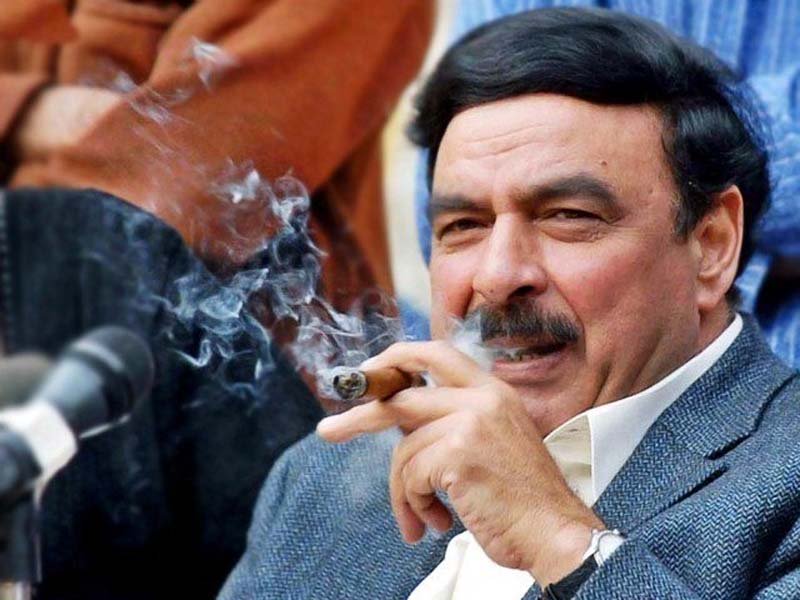 ---
Awami Muslim League Chief Sheikh Rasheed made scathing remarks against Shahbaz Sharif on Tuesday and questioned the eligibility of the newly inducted Senate candidates.

Speaking to the media outside the Islamabad High Court (IHC), Sheikh Rasheed appreciated the Supreme Court's decision to notify lawmakers holding dual nationality.

"Four senators were found to be holding dual nationality. The same code of conduct should be followed for the newly elected nominees whereby their nationalities should be checked before oathtaking," he said.

Four newly-elected senators already surrendered dual nationality: ECP

"Shahbaz Sharif plays well on both ends of the wicket and he is quite a seasoned player, but this time he will be stumped," AML chief warned.

Talking about the voting process Sheikh Rasheed said that Senate elections were bought off. "One vote was auctioned for Rs5 million in Khyber-Pakhtunkhwa, whereas Balochistan was completely sold off."

On the other hand, Justice Aamir Farooq convened a hearing in the Islamabad High Court (IHC) to tally the eligibility of prospective office bearers in light of the Senate Act 2017.

During the hearing, Justice Aamir complained that the ECP had not responded to two notices that had been issued earlier, whereby the full information of the nominees had to be shared with the IHC. "The ECP has failed to submit a response against the two notices that were issued earlier", he remarked.

Top court takes notice of newly-elected senators' dual nationality

Sheikh Rasheed's lawyer, Barrister Sohail maintained the stance that as stated in article 19 of the constitution of Pakistan, every voter has the right to demand full information of the candidates. Therefore the court should liaison the documents of the inducted candidates so that there is full disclosure of their details.

Justice Aamir Farooq retaliated by saying that the IHC should not be compared to the SC because they do not have the same authorities. He adjourned the hearing until Thursday and said that IHC will devise a reasonable resolve. The IHC issued a third notice to the ECP and the hearing has been adjourned till March 8.


COMMENTS
Comments are moderated and generally will be posted if they are on-topic and not abusive.
For more information, please see our Comments FAQ