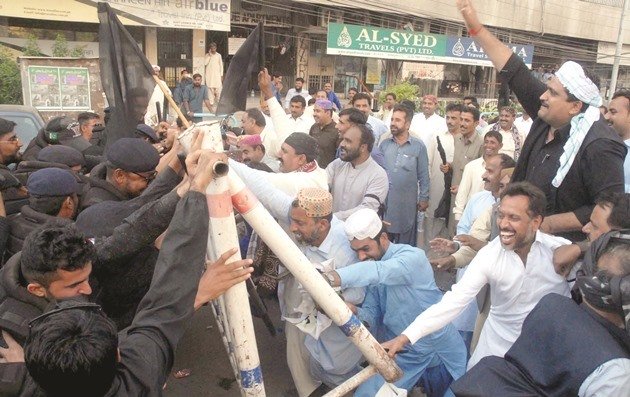 ---
KARACHI: At least 41 clerks were apprehended on Monday by the police for attempting to enter the Red Zone in Karachi.

In a move reminiscent of recent protests by other citizens demanding their rights, the police used water cannons and fought off the protesters with batons when they attempted to march towards Chief Minister House to air their grievances. Initially, around 300 clerks held a sit-in outside the Karachi Press Club and chanted slogans against the government, demanding an increase in their allowances and pay raises.




"We have come here to demand our rights," said All Sindh Clerks Association President Murad Ali Chachar, who was also among those detained by the police. "We just wanted to go to CM House to make the higher authorities aware of our reservations and demands but before we could move forward, we were treated like enemies," he lamented.

Following the clash between the clerks and policemen, an extra contingent of law enforcers reached the site and cordoned off the surroundings of the Karachi Press Club in a bid to stop the protesters from marching towards CM House.




Police officials said that the clerks association was staging a peaceful protest when some participants of the demonstration became violent and began marching towards CM House.  "Later, all the other [protesters] also joined them and started marching towards CM House by removing the barricades, compelling the police to use force against them to stop them," said Artillery Maidan police station SHO Salman Waheed. "Additional contingents of police were called from different police stations of District South following the violent situation."

PTI warns of protest unless Bilawal House road opened

The police later used water cannons, charged the protesters with batons and used teargas to disperse them. The law enforcers also apprehended at least 41 protesting clerks, including their leaders. The detainees were later shifted to different police stations in District South.




SHO Waheed said that everything was fine while the clerks were staging their peaceful protest. He said the civil administration had even met them and assured them of their full cooperation, but suddenly, some protesters turned violent and started a scuffle with the police.

The officer said that a case has also been registered against the protesting clerks while further investigation is under way. He said it has yet to be decided whether these detained clerks will be booked in an FIR or released, as officials in the government are currently discussing the matter.
COMMENTS
Comments are moderated and generally will be posted if they are on-topic and not abusive.
For more information, please see our Comments FAQ