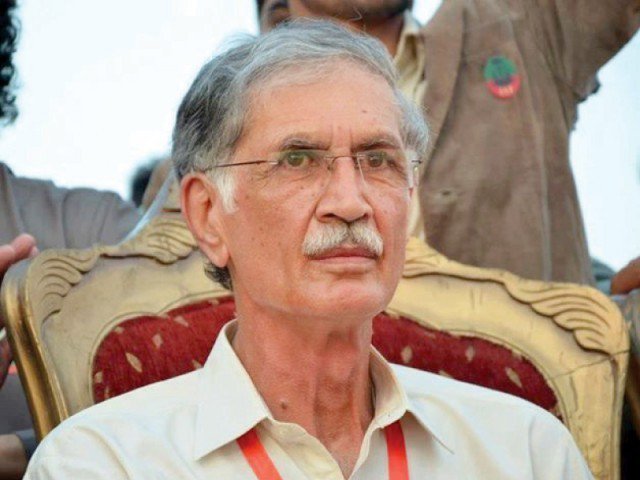 ---
PESHAWAR: As the Pakistan Tehreek-e-Insaf (PTI) reels from the shock of losing one Senate seat from Khyber-Pakhtunkhwa (K-P), internal party differences look set to be exacerbating horse-trading allegations being levelled against Chief Minister Pervez Khattak.

Former PTI  provincial minister Ziaullah Afridi on Monday accused Khattak of "horse-trading" in the Senate elections. MPA Afridi, who joined Pakistan Peoples Party (PPP) in August 2017, made the allegation hours after PTI Chairman Imran Khan claimed some K-P lawmakers had 'sold' their votes in the Senate polls and the party parliamentary secretary said names of those members will be shared with Imran.

The PTI has been under immense pressure in K-P where its disgruntled members are considered to be a threat to Khattak and are unlikely to contest on party tickets in the forthcoming general elections.


PTI MPAs traded votes for money in Senate elections: Imran Khan


The PTI had nominated seven candidates for the Senate – Abdul Latif Yousufzai, Faisal Javed Khan, Fida Hussain, Khayal Zaman and Muhammad Ayub, Muhammad Azam Khan Swati and Mehr Taj Roghani.

According to sources, Khattak divided party lawmakers into groups and directed them to vote for particular candidates. Much to his dismay, only one group of cabinet members voted for Faisal. The rest changed priorities.

It is pertinent to note that despite 'horse-trading' claims,  the PTI managed to bag four seats. But, it was not disgruntled members that cost PTI one seat. Afridi is said to have played a major role in manoeuvering MPAs to shift their loyalties to the PPP.  Where the PPP was expected to win one, it secured two seats despite having just seven members in the K-P Assembly.

Although the possibility of money exchanging hands cannot be ruled out, friendly relations between Afridi and PTI members and their common grievances against Khattak may have encouraged lawmakers to shift loyalties, a PTI insider told The Express Tribune.

Asked why the disgruntled members voted for Zaman, the source revealed it was because Khattak was not in favour of the candidate. "It is believed that Khattak and Zaman have differences," he said. "This could be the reason why the disgruntled group was encouraged to vote for Zaman."

Regardless of Zaman being on good terms with the disgruntled members, they knew the K-P chief minister would have taken credit for Zaman's win – a situation not acceptable for the dissents. The insider claimed that majority of those allegedly party of 'horse-trading' were women parliamentarians.

"The women parliamentarians had reservations over allocation of funds," a close aide of Khattak revealed. "He prioritised men over women members by bringing opponents over his own party members."

Senate election results are out: Politicians react – some pleased, others peeved

He further added that those who voted against the party were aware that they were not in the list of candidates for party tickets in next general elections. Hence, they had nothing to lose, he added.

On the other hand, Afridi, who has been accused of embezzling funds by Khattak, blamed the latter for 'horse-trading'. He alleged that Khattak had bribed each Senate candidate with Rs40 million and offered Rs15 million to loyalists.

"He is famous for converting loyalties," Afridi told The Express Tribune. "It is evident from his past. I am certain if the names of those involved in 'horse-trading' are made public then the accused members will turn against Imran and Khattak."

Speaking to The Express Tribune, K-P Minister for Information and PTI leader Shah Farman said a thorough investigation was being conducted. The party does not wan't to level allegations yet, he said.  "We are probing the matter," said Farman. "We nominated candidates according to our strength."

"Why would a party go beyond its limits?" he asked as he questioned  the PPP, the Pakistan Muslim League-Nawaz (PML-N) and Jamat-e-Islami-Fazl (JUI-F) decision to have nominated more candidates more than their strength.

"This raises questions. Do you call this a democracy," he said.

Senate results to be altered if PHC moved against four rejected votes

The future of many Senators would be bleak if those, whose votes were rejected during the Senate polls would approach the Peshawar High Court (PHC).

Four votes, with two each for PPP candidates Behramand Tangi and Sakhi Butt, were rejected during the polls but those who marginally won the polls were elected in the Senate will face a difficult situation if the court intervenes.

It is believed that the results would be altered if any of the aforementioned candidates challenge the results.

The counting went to ninth round and Gul Naseeb of the JUI-F and Sakhi Butt of PPP were eliminated in the seventh round where many made it to the upper house of parliament in points with any revision into the four votes would lead to the entire process being changed.
COMMENTS (1)
Comments are moderated and generally will be posted if they are on-topic and not abusive.
For more information, please see our Comments FAQ