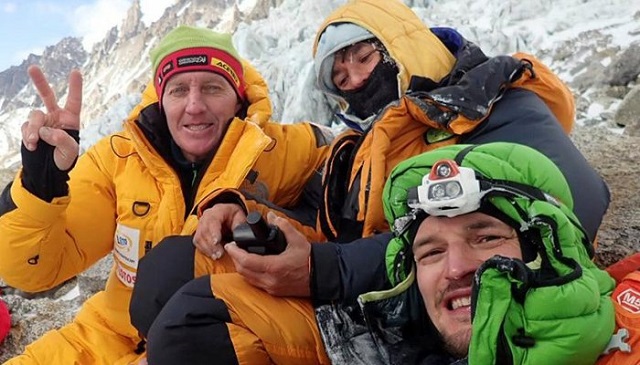 ---
ISLAMABAD: A team of Polish mountaineers attempting the first winter summit of K2, the world's second highest peak, have called off their bid citing bad weather, after a drama-filled expedition which made international headlines.

The decision means that K2, in northern Pakistan on the border with China, remains the only peak in the world above 8,000 metres that has never been climbed in winter.

Stranded mountain climbers in Pakistan to be rescued

"Based on a deep analysis of the situation in agreement with the team I decided today to end the mountain action on K2," wrote the team leader Krzysztof Wielicki on their Facebook page.

The expedition spokesman confirmed to AFP that the bid has been called off due to bad weather.

The announcement comes days after one expedition member, a Russian-Polish climber called Denis Urubko, broke away from the team after a dispute and launched what others called a 'suicidal' bid to make the climb solo.

The high-altitude drama put the team in the international spotlight.

Within days Urubko had also called off his attempt, and is currently en route to the capital Islamabad.

The Polish team arrived at the K2 base camp late last year, enduring sub-zero temperatures and gale-force winds.

But Urubko had become increasingly frustrated with their pace after a series of delays, including the night-time rescue of French mountaineer Elisabeth Revol on another Pakistani mountain, Nanga Parbat, in January.

Urubko had volunteered to go to Nanga Parbat as part of that rescue team, which saved Revol but left another climber, fellow Pole Tomasz Mackiewicz, on the mountain.

The K2 team's part in that high-profile rescue also drew attention to their winter summit bid.

French climber saved on 'killer mountain' flies home

Everest has been summited by thousands of climbers young and old, but K2 is a much lonelier place. Around 300 have made it to the top since the first ascent 60 years ago. Many climbers have died trying, and on the descent.

Northern Pakistan is home to some of the world's tallest mountains, including K2 in the territory of Gilgit-Baltistan.

Nestled between the western end of the Himalayas, the Hindu Kush mountains and the Karakoram range, Gilgit-Baltistan has 18 of the world's 50 highest peaks.